If you're someone who travels sometimes and is in need of a bike rack, then getting those bulky, four bike carriers is a rather redundant purchase. If you were a frequent traveler who likes to go to hilly areas and like to ride your mountain bike, I probably would suggest you get the robust, big bike racks.
But, since you are someone who doesn't need a bike rack that is huge and is looking for something compact and flexible, then clearly getting the lightweight bike racks should be your priority.
A lightweight bike that is packed with features and easy to use is difficult to find. But, worry not because that is why I am here today. 
What should you look for before choosing your preferred lightweight bike racks?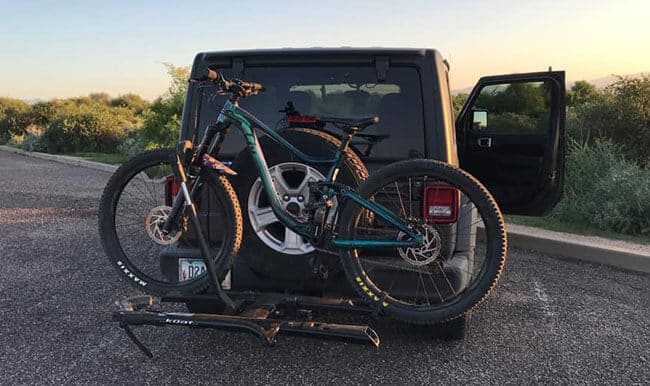 Before going through all the relevant brands and products in the product, you must know what exactly you need from the products.
Because the product may have the features that you don't need, which will, in return, only increase the price in the end.
So, you need to filter out what are the exact specifications you need from the bike racks. To help you in this, let us talk about what you should look for before getting your desired bike rack.
Your Vehicle Type:
While there are bike racks that are universal, meaning that they are for all types of vehicles, there are bike racks that are based on the vehicles. Like, like bike racks for Sedans, SUVs, Trucks, or Vans.
So, it is important to know if your bike is compatible with your car. You could be driving a sedan, but you have accidentally bought a bike rack for an SUV. 
The Number of Bikes:
You may have just one or two bikes and you don't really use a bike rack that much. Then in that case getting a big bike rack that carries four bikes is utterly useless and costly for you.
Lightweight bike racks in general carry not more than two bikes so evidently, lightweight bike racks will be a good buy for you. I will talk in brief about the types of bikes in just a short time.
Budget:
Asking the right questions leads you to the right answers. So, clearly, if you are on a tight budget then you have to purchase a bike that is equivalent where the specs are equivalent to the price point.
It would be absurd to ask for bike racks that are packed with features when under a small budget. But, nothing to be bothered since there are lightweight bike racks that are cost-friendly.
Fuel & Gas:
Getting a roof-mounted bike rack might be a problem because of the distortions that will be caused due to aerodynamics.
That in return will use up the fuel faster but in the case of hitch mounted bikes there isn't any aero stress so fuel gets consumed normally. Most of the best bike racks are actually hitch-mounted bike racks.
Security:
Safety is always a concern regardless of what type of bike rack you own. So, bear in mind the locking features of the bike racks. Getting a bike rack that has special anti-theft features is always a plus. 
What makes a bike rack lightweight?
A lightweight bike is those bike racks that are flexible to use, can be easily carried, has a foldable design, and have a very minimal outlook.
It is for those who are not usually fond of using their bikes for other purposes so they get one for temporary usage.
A lightweight bike rack usually carries not more than one or two bikes but there has been a few exceptions. Brands also come as a priority because brands feature some unique features. Like, Allen Sports is a brand that we are all aware of. 
What are the types of bike racks? 
Since we are talking about lightweight bike racks, Let me just briefly explain to you the few types of bike racks.
Hitch-Mounted: These are usually attached to the backside of the vehicle. Hitch mounted racks are the most common of them all.
Spare Tire Mounted: These racks are attached to the extra tire, which is attached at the rear end. It is mostly for SUVs that have spare tires attached to their back. 
Roof-Mounted: These racks are attached to the roof of the vehicle. The bike attachment is a bit difficult on roof-mounted racks. 
The best lightweight bikes racks for your vehicle: 
Now let us about some of the best lightweight bike racks for your vehicle:
Brands like Thule and Allen are always a no-brainer when it comes to picking your preferred bike racks. So, clearly, if I have to talk about lightweight bike racks then Thule bike racks have to be obvious picks.
That is why I have found that Thule Easy Fold XT 2 is one of the best ones not just as a lightweight bike rack but as a regular bike rack in general.
The EasyFold XT 2 is quite complete if you have heavy-weight bikes or e-bikes as it can two bikes 65 pounds each. It has a foldable design that makes it simple to use for anyone along with the transport wheel that will let you carry it at ease.
The tilt mechanism will let you use the rear trunk without creating the bother of removing the rack. It consists of detachable bike arms with Thule's AcuTight torque limiter knobs.
A lightweight design with easy folding whilst letting it carry heavy bikes, The EasyFold can definitely be your preferred. The only drawback I see is its durability and its security because some of its parts aren't metal and of course its hefty price tag. 
Let me bring you the Pros and Cons:
Pros:
The folding design is definitely a want for bike rack users
Lightweight racks but it still can carry up to 130 pounds which lets you not about your mountain bike or e-bike. 
The folding design creates more space and the wheels let you move it around.
It has an easy assembly that requires no tool. 
Cons:
It is surely a pricey product and some may find it overpriced. 
The bike frame attachment system is not the best level of security.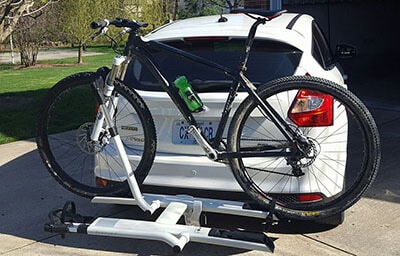 This all-aluminum design will surely be eye-catching for you. It is one of the easier-to-use bike racks.
The design is very minimal and lowkey, which can carry up to two bikes weighing 40 pounds along with tires that can be up to 3 inches.
Just like all the expensive, feature-packed bike racks, the Kuat Sherpa 2.0 also has the tilting feature that lets you use the rear trunk for your activities.
The Kuat Sherpa might not be the most spec diverse product but it definitely fulfills all the necessities. 
The downside I found is its durability, but that can be compensated with its lifetime warranty.
Now for the pros and cons: 
Pros:
It is for people who like lowkey builds and minimal designs. The aluminum rack blends in if it is attached to your bike because of its compact design. 
The tilting mechanism is definitely a necessity and it's undoubtedly a plus since it's such a small bike rack.
It is pretty convenient for carrying regular bikes because it can weigh bikes weighing 40 pounds each.
It requires no tool to install because of its hand-tight hitch cam system.
Cons:
It does not have a lot of features. The bike rack in comparison lacks versatility. 
Durability is a concern after using it for a couple of years. 
The price tag may be a concern for many people. 
You need to talk about Allen Sports if you're talking about Bike Rack, they are arguably one of the best in the business. So, clearly, I have the Allen Sports Ultra Compact bike rack for you.
A bike rack cannot get lighter than this, it weighs only around 7.3 pounds which adds a huge level of convenience for anyone. It is the perfect bike rack for travelers and someone who wants a bike rack right now in an emergency.
In terms of security, it has 3 security straps for a proper fit along with 3 padded legs. It folds up to a small size that you can carry around in the bag provided with it.
Also, it is ready out of the box so you don't require any sort of installation at all. Regardless of what vehicle you own, it can be compatible with it. 
Let me show you the pros and cons for some clarity:
Pros: 
The design is very compact and lightweight. 
It is by far one of the more budget-friendly bike racks compared to everything else. 
Its foldable design lets you carry it wherever you want with no such hassle because of its weight and the bag. 
Since it's lightweight, Allen also provides you with a Nylon Carry bag. 
It fits on any car. Sedans, SUVs, or Trucks any of them. 
The three padding legging and security straps help you properly secure the bikes. 
Cons:
It doesn't have the best way to fold the rack. 
It doesn't have any protective coating on hooks that can damage the body of your vehicle. I suggested adding some sort of protective layer, like tape. 
The Comparison 
| | | | |
| --- | --- | --- | --- |
| Racks | Thule EasyFold XT 2 Hitch Bike Rack | Kuat Sherpa 2.0 | Allen Sports Ultra Compact Bike Rack |
| Weight | 45 Lbs | 32 Lbs  | 7.27 Lbs |
| Foldable Design | Yes | Yes | Yes |
| Material  | Aluminum and Plastic | Aluminum  | Metal |
| Bike Rack | Hitch-Mount | Hitch-Mount | Hitch-Mount |
| Bike Limit | 2 bikes | 2 bikes | 2 bikes |
| Assembly  | Tool-free assembly | Requires Assembly | Pre-Assembled |
| Warranty  | Lifetime  | Lifetime | Lifetime  |
| Mount type | Power Grip | Easy Snap | Strap Mount and Trunk-Mount |
| Vehicle type | SUV | Vans and SUVs | All types of Vehicles |
Honorable Mention
There is another bike that I wanted to talk about, but it just fell short as an overall bike rack is the Saris Bones Car Bike Rack.
Made out of 100% recyclable items, it surely won't be an unwise purchase in case you like its uniqueness or if you are someone who is worried about climate change. Let me just show you some of the specs in a table for your clarity:
| | |
| --- | --- |
| Weight | 10 lbs |
| Foldable Design | No |
| Material  | Synthetic  |
| Bike Rack | Trunk-Mount, Trunk Rack, and Strap Mount |
| Bike Limit | 2 bikes, 35 Lbs each |
| Assembly  | Requires Assembly |
| Warranty  | Lifetime |
| Vehicle type | SUV and Sedan |
Frequently Asked Questions
Can you add any sort of bike racks to your car?
Yes and No. It depends on the bike rack you purchase. There are bike racks that are universal, and fit all types of cars. So, if you own a sedan and an SUV, then get one that is either universal or compatible with sedans and SUVs.
Can bike material play a role in purchasing a bike rack?
Not entirely because most bike racks have good build quality. Most bike racks are made of alloy steel, metal, or aluminum. Just bear in mind to avoid the bike racks that contain a lot of plastic. Plastic is evidently not strong and secure enough. 
Can Bikes racks damage the paint of my car?
It is pretty rare, but it can happen. It can occur if the bike is not perfectly attached, or it can happen because of the lesser gap between the car's and rack's surface.
Can lightweight bike racks affect your car's speed?
If you have the bikes at the rear end, you can drive your car 75 miles an hour without too much worry, and since it is a lightweight rack, you may be able to speed up just a little. But be careful not to speed too much as the heavy can shatter your bike frames or the rack itself. 
Wrap Up! 
So, I hope you know enough ideas about lightweight bike racks for your SUV or Sedan. I have tried to include multiple segments in various price points, including the honorable mention so that you know more than you need in deciding to buy your preferred lightweight bike racks.
Getting any of the bike racks won't be a wrong decision for you. Each and everyone one of them has features that will make your life a bit easier in your carrying your bike.
You have something for an expensive price point and also something if you are on a budget.