A bike rack is a fantastic accessory for hardcore bikers. If you want to store one or multiple bikes, you can do it with bike racks. Besides, transporting gets easy whenever you go for tracking.
Most of the bike racks feature car mounts. That's why they are often called car racks. However, car racks offer easy installation and removal for convenience. So, when you talk about bike racks, security issues come to mind first.
Anyway, don't lose hope. You can still secure your bike rack. Follow this post and pursue a method that seems effective to prevent the bike rack from being stolen. In the end, I will suggest some accessories that can help to lock up your bike rack. You can also give them a shot.
Why do bike racks get stolen more frequently?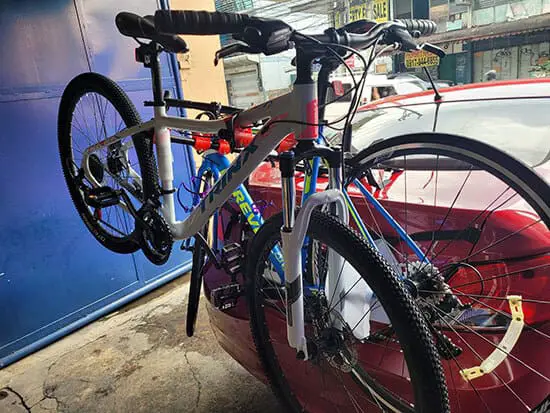 As I said at the beginning, a bike rack comes with an easy mounting system. So it's super easy for someone to remove and take a bike rack away from your car. Even if the rack features a good mounting system, a determined thief can break it with minimum effort. This is why bike racks get stolen more frequently.
How do I stop someone from stealing my bike rack?
It's almost impossible to secure the bike rack with 100% security. There are highly determined thieves who can still steal the rack. As you can't make it theft-proof, try to make it difficult to steal. The below tips can help you to increase the safety of the bike rack. Let's know how do I stop someone from stealing my bike rack.
Tip-1: Be aware while parking
Not only the bike rack but also your car will be insecure if you don't park it in a secure place. Before parking the car, make sure the area is under CCTV surveillance. Also, avoid places where there are fewer or no people.
Tip-2: Fix the rack with the car
This method is the most effective and cheapest way to secure the bike rack. If you are not much concerned about the car look, you can give it a shot for sure. But how to do it? Well, you can do it in two ways.
Firstly, you can fix the rack on the rear side of the car by welding. It won't look great, but the security will be at the highest level.
Or, you can get a steel ring and attach it to the rack by welding. Make sure it won't rub with the bike. Then use a bike lock to lock up the steel ring with bumper. Thus, you can get security without hampering the car's look. However, it will cost a little more than the first method. But, in my opinion, the second method is best overall.
Warning: Make sure the rack doesn't block the view of the licensed number plate. It's a must because, in most cities, traffic police don't allow it.
Tip-3: Get a bike lock
The overall best way is to get a bike lock and lock up the rack when you are not around the car. It helps in two ways. First of all, you can lock the rack while riding the bike. Another is you can use it as a bike lock while not riding the bicycle.
However, before getting a bike lock, you have to consider some facts.
Firstly, avoid cable locks. These locks can't offer minimum safety to save your bike or bike accessories. Instead, get a folding lock or U lock. They can ensure 50% to 70% more security than cable locks.
Secondly, make sure the lock is security-certified. A gold standard lock offers better safety than a silver or bronze standard lock. So, get a lock that is of gold security standard.
3 Best locks for a bike rack
In consequence of the previous section, I have listed the 3 best locks for bike racks. These locks fulfill both conditions that I described above. So, you can check out these locks and get one from here.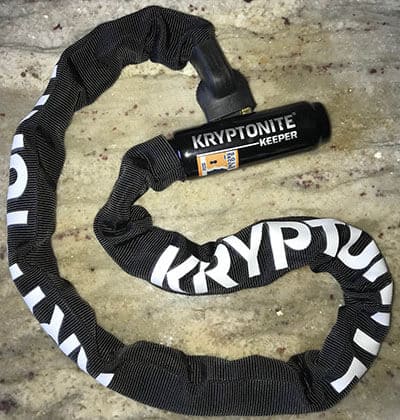 Kryptonite is a reliable bike lock brand offering high-quality locks for more than 45 years. All Kryptonite locks are security-certified and well built. Besides, they provide a KEY-SAFE program so that you never lose the key.
However, here is Kryptonite Keeper 785. It's a foldable lock from the Keeper series. The alloy steel chain provides more than decent security. Moreover, it's wrapped with a nylon sleeve, which is weather resistant. So, it's rust-proof and less corrosive. Besides, this sleeve protects the inner chain from scratches. But, how useful is it for a bike rack?
Well, if you ask me, I will say it's the most useful one. As it's foldable, you can easily lock the rack with the car. Besides, it's cut-proof, so thieves can't break it easily.
You may read also can I put my bike rack in front of a car
If you want a bit higher safety, go for U lock instead of the foldable. Kryptonite U lock from the keeper series is the best for locking a bike rack. You can easily lock the rack with the car with its long and thin shackle.
Well, you may think, a thin shackle is not too secure to use. But, the shackle is made of hard steel, which is almost impossible to cut with a hex blade. However, this comes with a matte finish that looks premium. Also, the outer coating work as rust-resistant. However, this lock provides a key safe program and a lifetime warranty as usual. So, it's worth buying for your bike or bike accessories.
If you want something that has both usability and high security, this lock is for you. I am talking about the Kryptonite Newyork combo. It's a combo of the foldable shackle and a disc lock. This is a heavy-duty option for your bike rack. Moreover, it offers the highest-rated safety. So, don't need to worry about the security.
Anyways, in this lock, the body is made of super durable manganese steel. Again the shackle is protected by a nylon cover which protects it from scratches. The sleeve itself is weather resistant. So, it won't get damaged quickly. If I talk about the D lock, it has a reinforced structure. That means durability at the highest level. Besides, the matte finish on the D lock makes it look stunning and protect it from rust.
Frequently asked questions bike rack
Do bike racks have locks?
Not at all. You have to get a lock separately to save the rack from thieves. Get a U lock and lock the rack with the car bumper. That's the best way to secure the bike rack.
Is it OK to leave the bike rack on the car?
Not at all. It's not good for the overall look of the car. Moreover, it unnecessarily increases the load on the car and wastes space. Besides, it can get rusty during heavy rain while in the car. Also, it will attract thieves to come to your car. So, there is no point in leaving the bike rack in the car.
Are Allen bike racks safe?
I have said in many of my posts that racks from Allen sports are my favorite. So, no one knows better how Allen bike racks are. It's well built and robust enough to carry a high load. Moreover, it's safe and secure. You can lock it to the car bumper. So, don't worry about safety.
Conclusion
A decent bike rack costs around a hundred bucks. The money is worth it, as it's proven to be a useful bike accessory for many riders. So, you won't like when the rack gets stolen. That's why you need to secure the bike rack. 
However, a lock will definitely help in this case. But, using common sense should be your first move to secure this accessory. Besides, knowing an effective and safer way is crucial to do it perfectly. Today's post was all about this. I hope it has helped you to secure the bike rack.
I have also recommended the 3 best locks that can be used for both the bike and the rack. So, you can get security both indoor and outdoor.
Anyway, that's all for today.
Cheers!