Locking a bike rack isn't really an easy job. If you are not sharp enough with the tools, then you are inevitably going to struggle. While some of the bike racks come as pre-installed, the majority don't actually.
Because a rack that is packed with many features will evidently have many parts that will demand assembly from you, that is where the Thule brand comes from, one of the leading brands in this industry, and they are known for its sophisticated features and convenience.
My friend who always has been using a cheap bike rack has finally decided to get a decent pricey bike rack. So, he got one from Thule, where he struggled quite a bit with installation, and that is where I stepped in to help.
So, worry not! Because if you have a Thule bike rack or racks that has similar features to the Thule, I am here to assist. 
What are the types of Bike racks, and which ones may be for you?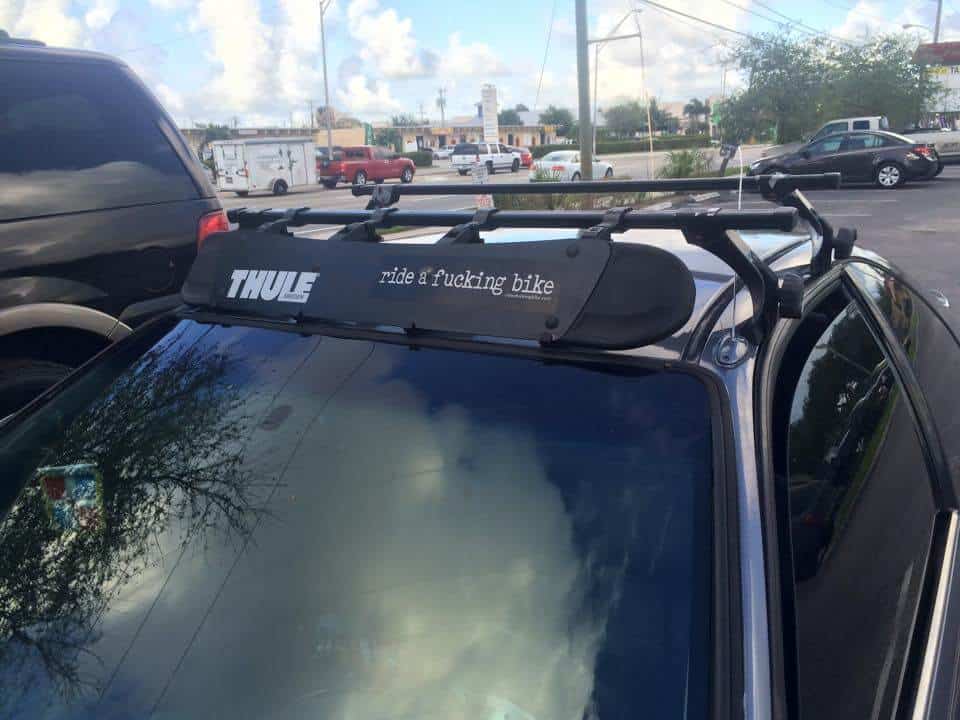 This will be a brief explanation but quite the necessary one in case you are a newbie. Because you may not know which type of bike rack you actually own, and since I am here to assist everyone so clearly, the newbies won't be left out. 
Hitch-Mounted Rack:
These are the most common bike racks, and most like you probably own this. This rack is where you install it on the car's hitch which is at the rear side. Hitch racks are easy to install, and quite a lot of them are universal to all vehicles.
Some of them even come pre-installed. So, you might be in luck. Also, the bike-mounted rack saves the most amount of fuel out of all the bike racks. 
Roof-mounted rack:
Common among the beach riders who like to put their surfing boards above their Sedans and SUVs, the roof-mounted racks are seen quite a lot. The roof-mounted racks are where you place your bikes on the roof of your bikes.
It is pretty easy to identify because there will be bars preinstalled attached to the roof of your vehicle, and that is the cue. The locking part can be complicated depending on the model you choose. A major drawback is it is not cost-effective in terms of saving fuel.
Spare-tire mounted racks:
Those old geeky SUVs typically have those spare tires attached at the rear side. But, you won't see spare tires on modern vehicles, but nevertheless, if you have a spare tire attached, then chances are that you own a spare tired mounted rack. As mentioned in its name, you can tell you have to place it on your spare tire. 
Now that we have understood what the types are, let's dig deeper. 
The Thule Brand: Why should you choose the Thule bike racks?
One of the most premium tier brands out there for bike lifestyle products, you cannot skip talking about this brand whenever there is a conversation related to biking, traveling, and bike racks.
Globally renowned and selling their multiple products in over 100 countries, they stick by their motto very hard "Active Life, Simplified." Because they try to keep things as minimal and as easy as possible.
You'll clearly comprehend that once you know Thule. They may be at a high price point but it surely won't be a bad investment.
So, I am not surprised that you seek to know how to lock your bikes safely and securely on Thule Racks. 
The tools you may need for installation
Most bike racks don't require tools to install. They are pretty straightforward if you know to assemble things. But, some are a bit tricky. I'll tell you a few you will need if it's necessary to make some adjustments with your car.
Wrench: You might be required to adjust your hitch.
Screwdriver: You might be needed to tighten a special screw. 
Allen key: Surely has its specialty in rotating bolts and screws. 
How to lock bikes on Thule racks based on different types of bike racks?
Before I tell start telling you, do keep in mind that some of the bike racks might differ from version to version and you may see that the brands that are not Thule will also have a similar process of installation. So, let us go through the simple steps to install Thule bike racks. 
Roof Mounted Bike Racks
Let us talk about the easy steps to lock your bike on a Roof-mounted Thule rack.
Step One: Make sure all the parts have been assembled perfectly, and make sure you have all the parts ready. Also, you need to check whether the roof bar is appropriately mounted or not.
Step Two: Firmly place the bike on the surface and attach the straps on the two wheels. Remember to keep the bike placed at the front end. The bikes should stay fixed.
Step three: Attach the clamp that'll fit on the frame of the bike. There should be a lever-ish design on it so that you can place it however you want based on your bike. Tighten the screw and you'll have a complete rigid attachment to your bike. 
External methods for safety 
Externals measures are an absolute necessity. Do not shy away from it because there are actual competent thieves that can vanish not just your bike but also your rack. 
For extra measures, you can get the Thule locks and place them on the cylinder where the lever is there to replace the plastic buttons.
Thieves won't be able to release the lever because of the lock. You may wonder if the locks are given with the products or not. It is unfortunately not, you have to purchase it alone. 
Also, you can get the Thule straps for more attachment so that the thief's life gets more difficult in trying to steal your favorite bike. 
Spare-Tire Mounted Thule Bike racks
Let us talk about the easy steps to lock your bike on a Spare tire Thule rack.
Step one: Just like the roof-mounted rack, you also need to care if the parts are perfectly assembled or not and have all the tools necessary with you.
Step two: Place the bike on the cradles at the top arm of your bike firmly. Check if the top side of the frame is wobbly or not. If you have wires connected to the frame, you also firmly need to place them as some of the cradles now even have notches for the wires to fit.
Step three: Attach all the straps with frames. There should be another cradle underneath which is the anti-sway cradle, where you will attach another set of straps.
External measures for safety
I definitely recommend you to get the Thule Crossbar or adapter because not only it will make your rack adaptable to all kinds of bikes, but it will attach another layer of protection so that the headset or saddle doesn't get stolen. 
Also, you should get that high-performance cable locks and wrap them around the two wheels. The key is to make the wrapping as awkward and complicated as possible. It will lock the wheels from constantly moving and secure them. 
Hitch-Mounted Thule Bike Racks
For the hitch-mounted bike racks, I have something dedicated for you in it. Kindly go through how bike lock to hitch rack, and you'll be thoroughly enlightened about the types of different hitch-mounted racks and of course, know how to lock your bikes properly. Not to mention, you'll know some more external measures to lock your bike for safety purposes. 
FAQs (Frequently Asked Questions) 
Are there any alternative brands for Thule if I want to buy bike racks?
Ans: Yes, there are quite a few actually. Thule competes with the absolute best brands that make bike racks. And, some of them come in cheaper even. There are brands like Kuat, Allen Sports, Yakima, Swagman, and so much brilliant brands that you can consider. But, just like every brand, Thule has something unique to offer, and that's why they are at the top.
Are Thule Bike Racks good in terms of safety and rigidity? 
Ans: Thule is extremely careful in testing their projects. They are very outspoken about it even. They have even mentioned that they don't like their products, and that's why they test them in the toughest scenarios to understand their limits and filter out the problems. They even boastfully said that the world is their lab. 
Wrap Up! 
Honestly, it has been a complete pleasure to thoroughly explain to you about this wonderful brand and how safe it is to use the products for your bike's security. I have tried to make sense and relate the things so that not only an avid cycle enjoys this but also an absolute beginner enjoys this as well.
I have also told you told some of the external measures to secure your bike because the external measurements are obviously a necessity because you could be parking your car in a bad neighborhood due to an emergency and that can't be your fault unless you are reckless.
I hope that you have enjoyed enlightening yourself. You should now be comfortable sharing with others on how to deal with this simple problem.