Hey,
Welcome or Welcome back to cycling. As you have landed here, I can assume either you are learning to ride or coming back to cycling after ages. Or, you may be searching this query for your beloved one. Whatever it is, take my warm love.
Anyway, you must remember how you rode bikes with training wheels in childhood. But is it possible today when you are above 18 or even too older than 18? I will definitely answer it.
Also, I will answer all the related queries. So, you don't need to go anywhere. However, you will get these later.  Firstly, let me answer the question you are searching for.
Can adults ride bikes with training wheels? (the answer)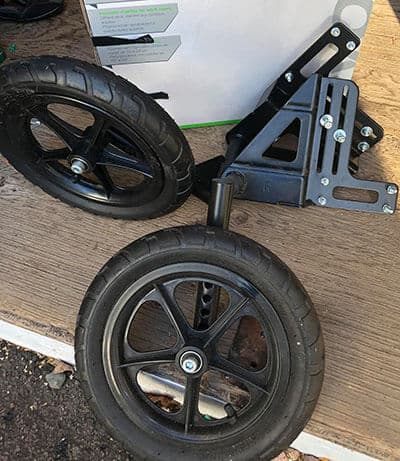 Yes! Adults can ride bikes with training wheels. Older riders who cannot control the bike or bikers who are learning to ride can ride bikes with training wheels. Actually, there are specialized training wheels for adults. So, it's quite possible.
So, now you know adults can ride bikes with training wheels. But can they ride with a kid's bike training wheels?
Well, not really. You need to get a pair of training wheels that are suitable for adults. But, it's hard to do if you don't know how to separate an adult's training wheels from the kid's one. That's why I have come with a buying guide on bike training wheels for adults. Let's dig deep down.
What to consider before getting training wheels for adults
Before you get a pair of training wheels, know how to identify which are for adults. There are some parameters to consider. Thus, you can identify which training wheel is for adults. Also, it will help you to get the training wheels that suit best for you or your beloved one. Let's check it out.
Size
It is easy to understand that the adult training wheel should be larger than a kid's training wheel. But what should the size be?
Well, the training wheel's height should be equal or near equal to the bike's wheel's radius. When I say the size, it refers to the perpendicular distance between the bottom of the wheel and the mount. Most of the bike training wheels offer adjustable height. So, you have to check the size by yourself or rely on the specification provided by the seller.
You may read also choose the perfect bike size
Capacity
You can't use kids' training wheels because they are not capable of carrying your weight. So, you need to get a pair of bike trailers with a higher capacity. But how much the capacity should be.
Well, the highest capacity should be above the total weight of the bike and the rider. For example, if you weigh 135 lb and the bike weighs 25 lb, then the capacity of the training wheel should be above 160 lbs. However, let's check out the minimum capacity range for different riders and bikes.
| | |
| --- | --- |
| Total Load (Rider+Bike) | Minimum Capacity Range |
| 130-150 lbs | 170 lbs |
| 150-170 lbs | 190 lbs |
| 170-190 lbs | 210 lbs |
| 190-210 lbs | 230 lbs |
| 210-230 lbs | Above 250 lbs |
Material
The material used in the training wheel has a significant influence on performance and durability. A good quality training wheel lasts for a long time. For example, the training wheel from FXXX offers reinforced steel construction. So, people claim it a durable option.
However, most of the training wheels come with stainless steel construction. It's heavy yet durable, so you can ride longer with it. But, you can find some bike training wheels offering plastic construction. Try to avoid them. Get a pair of training wheels that have a whole steel body.
Anyway, besides the construction, the padding also plays a vital role in control. Rubber padding provides greater control of the terrain. Again plastic doesn't work well as padding.
3 Best heavy duty bike training wheels for adults
Now you know what to consider before getting a bike training wheel for adults. Do your research and get a pair that suits you most. If it seems time-consuming, you can go through this section.
I have listed the 3 best bike training wheels for adults. All of them are included considering your need. You can give them a shot.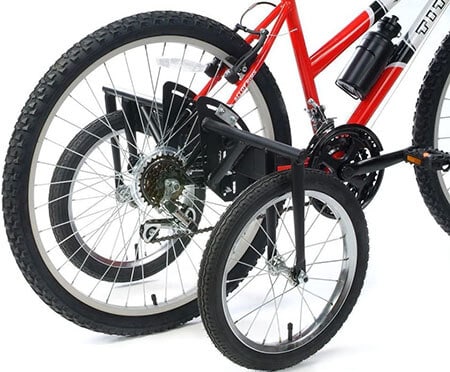 Let's start with the best seller bike training wheel. I wondered why people are crazy about it. But when I got a chance to use it, I got to know WHY.
Firstly, it's not like any other bike training wheel. It's an actual pair of bike wheels. Like there are spokes, rims, and tires. It seems like, your bicycle gonna turn into a tricycle after installing it.
However, it comes with a 16" inflatable tire tube that fits any adult bike with a 24"  to 27" wheel. Moreover, it works on most types of bikes. So, you don't need to worry about compatibility issues.
If you ask me about the construction, it's made of rigid steel. Which is fair for a training wheel. There are plastic coatings on the U bolts that help them to prevent rust.
Anyway, let's talk about how it performs as training wheels. Well, the wheels are wide and big enough. So, my overall experience was good to ride with it.
It stabilizes the bike well and provides excellent control without any effort. You just need to hold the steering. That's it. Rest you can depend on the training wheel. Now it all makes sense why it is the #1 adult bike training wheel.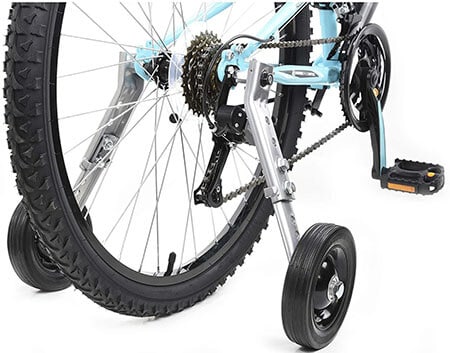 If you are learning how to ride, this training wheel is for you. It's not made for high stability. It's for keeping you from falling down while learning to ride.
However, FXXX comes with some exciting features that make it one of the best training wheels for adults. One of them is its reinforced steel construction which means durability at the highest point.
But, what will you do with long durability after you become capable of balancing a two-wheeler?
This training wheel will answer your question itself. It comes with adjustable height. That's why it can be used as both adult's and kid's bike training wheel. So, your junior can also use it after you are done learning how to ride.
Anyways you may think it is not too good to stabilize the bike. But it's not true at all. Well, you won't get high stability as the previous training wheel offered. The wheels are small yet wide and well-padded. So, it provides excellent stability and great control on the road. In conclusion, I can say it's worth buying for beginners.
CyclingDeal offers a bike training wheel that is between Titan and FXXX. It features a small pair of wheels which has wide tires and rubber padding on it. If you want optimum stabilization, this training wheel is perfect for you.
Anyway, something I liked most about this training wheel was its mounting system. It fit most adult bike, having 24 to 29-inch wheels. Besides, the height is adjustable here. So you can get the perfect setting of the training wheel. Moreover, it sits tightly on the bike wheel frame. Thus, it serves the highest stability.
If I talk about the built quality, it's made of steel as expected. Wheels are also made of steel. So it can carry around 265 lbs of load. Additionally, it comes with wider tires so that you can ride on uneven roads with comfort.
How can adults ride bikes with training wheels?
You have learned how to choose bike training wheels. But that's not all. You must set up the training wheel and learn how to ride with them. So here are some tips on how to ride bikes with adult training wheels. Let's dig in.
Tip-1: Get the right pair of training wheels
I have described earlier how to choose bike training wheels. I hope you have gotten one that suits you. If you are still confused, know what makes the best bike training wheel.
Firstly, it doesn't matter what size of training wheel you use; it should align right. All the wheels (including the bike wheel) must be parallel and touch the ground simultaneously. A training wheel with adjustable height fulfills this requirement.
Secondly, the bike training wheel must have a high capacity. Though there is a standard capacity range for every rider, a high capacity training wheel is good to get. If the capacity is high, the training wheel will be able to survive in extreme stress.
Thirdly, wider wheels provide greater control and stability. So, get a pair of training wheels that feature wider tires.
Tip-2: Set them right
After getting the pair of training wheels, you have to install it right. Before that, check if there is enough extension on the rear axle nut. Otherwise, get an Extension Bolt and screw it with the axle nut of the rear wheel. Now, install the training wheel step by step.
Firstly, prepare the training wheel. For that, pump the wheels up and mount them with their frames. You can simply do it with an Adjustable Wrench.
Secondly, remove the nut from the axle bolt. If you have mounted an extension bolt, skip this and go to the next step.
Lastly, install the training wheel. For that, mount the wheel with the axle bolt and tighten the nut. Make sure all the wheels are aligned straight and touch the ground simultaneously.
Tip-3: Where to ride
Now you are all set to go for a ride. But, hold for a second. Before you go out, know where to ride. People often go the wrong route and fall into trouble.
Firstly, you need to avoid cruisers and electric bikes. Most of the bike training wheel is not compatible with those kinds of bikes.
Lastly, try to ride on even surfaces. Onroad is the best terrain to ride with bike training wheels. But, you can also ride a light offroad like cross-country or town. I recommend avoiding uphill terrain. Besides, don't ride on dirt, sand, or downhill at all.
Frequently Asked Questions About Adult Training Wheels
How do adults learn to ride a bike?
To learn to ride a bike, you have to practice riding with a smaller bicycle. Thus, you won't get injured as the legs will remain on the ground. If you're still afraid, a pair of training wheels is a good thing to start with. It won't help you much to learn, but it will help you gain some confidence to control the bike.
Do training wheels help adults?
In many cases, the bike training wheels help adults to ride. Old riders who have less capability to control a bike enjoy its benefit most. They can stabilize the bike and enjoy the ride with minimum effort. In a few cases, training wheels serve as a learning aid. I can't claim it's the best way to learn to balance a bike. But, I can guarantee you that it will help you get rid of the fear of balancing a bike.
Is it OK to use training wheels?
You may hesitate to ride with training wheels. But it is a game-changer for some riders. A rider with physical limitations can enjoy cycling with it. It assists the biker to balance. So, riders with weak hands can control the bike. So, it is okay to use the training wheels.
Conclusion
It's good to see people riding bicycles despite their limitations. A pair of training wheels is an excellent thing to get for a newbie or senior citizen. It stabilizes your bike and helps you to take control of the road. So, it can be a game-changer for arthritis patients who wants to enjoy riding a bike.
Besides, new riders who are afraid of riding a two-wheeler can get rid of fear with it. But the problem is it's a bit tricky to get a suitable training wheel for adults. I hope this post will help you to choose.
Anyways, if you don't know how to install and use the training wheel, you can read the tip section. Wish you will ride without worries.
Happy cycling!