Welcome or Welcome back to cycling. As you have landed here, I can assume either you are learning to ride or coming back to cycling after ages. Or, you looking for adult bike with training wheels for a beloved one. Whatever the reason is, I am glad you are here.
We have seen a lot of kids bikes with training wheels, but is it possible for adults to ride bikes with training wheels or stabilizer wheels (as some people call it)? Yes it is possible.
Can adults ride bikes with training wheels? (the long answer)
Yes! Adults can ride bikes with training wheels.
Older riders who cannot control the bike or cyclists who are learning to ride can ride bikes with training wheels. Actually, there are specialized training wheels for adults. So, it's quite possible.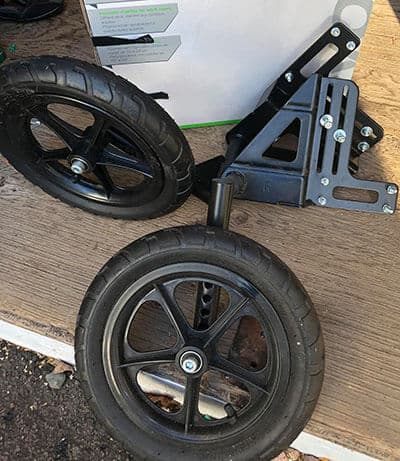 So, kind of training wheels will an adult bike need? do the kid's bike training wheels work?
Well, not really. You need to get a pair of training wheels that are suitable for adults. But, it's hard to do if you don't know how to separate an adult's training wheels from the kid's one.
Read on for a detailed explanation on what to look for when looking for adult training wheels.
What to consider before getting training wheels for adults
There are three main parameters you need to look for in adult training wheels.
Lets look at each in detail:
Size
It is easy to understand that the adult training wheel should be larger than a kid's training wheel. But what should the size be?
Well, the training wheel's height should be equal or near equal to the bike's wheel's radius. When I say the size, it refers to the perpendicular distance between the bottom of the wheel and the mount. Most of the bike training wheels offer adjustable height. So, you have to check the size by yourself or rely on the specification provided by the seller.
Also see how to: choose the perfect bike size
Capacity
You can't use kids' training wheels because they are not capable of carrying your weight. So, you need to get a pair of bike trailers with a higher capacity.
Well, the highest capacity should be above the total weight of the bike and the rider. For example, if you weigh 135 lb and the bike weighs 25 lb, then the capacity of the training wheel should be above 160 lbs. However, let's check out the minimum capacity range for different riders and bikes.
| | |
| --- | --- |
| Total Load (Rider+Bike) | Minimum Capacity Range |
| 130-150 lbs | 170 lbs |
| 150-170 lbs | 190 lbs |
| 170-190 lbs | 210 lbs |
| 190-210 lbs | 230 lbs |
| 210-230 lbs | Above 250 lbs |
Material
The material used in the training wheel has a significant influence on performance and durability. A good quality training wheel lasts for a long time. For example, the training wheel from FXXX offers reinforced steel construction. So, people claim it a durable option.
Most of the training wheels come with stainless steel construction. they are heavy duty and durable, so they last longer. what you want to avoid are the training wheels with plastic construction.
Anyway, besides the construction, the padding also plays a vital role in control. Rubber padding provides greater control of the terrain. Again plastic doesn't work well as padding.
3 Best heavy-duty bike training wheels for adults
Based on our research, here is the list of 3 best adult training wheels that I think are good and reliable.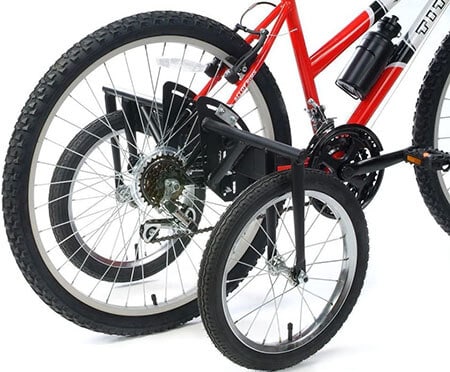 Let's start with the best-seller bike training wheel. Wonder why people love it so much?
Firstly, it's not like any other set of bike training wheels. It's an actual pair of bike wheels. This set has spokes, rims, and tires. Your bicycle is going to turn into a tricycle after installing it.
However, it comes with a 16" inflatable tire tube that fits any adult bike with 24"  to 27" wheels. And it works on most types of bikes. So you don't need to worry about compatibility issues.
The body is made of alloy steel with plastic-coated U bolts to protect the bike.
When installed correctly and on flat surfaces, it stabilizes the bike well and provides excellent control without any effort. You just need to steer the bike without worrying about balancing. The rigid construction and big wheels make you feel safe and in control; no wonder people rave about these.
There are some things to keep in mind, though, the installation has to be done right, and misalignment can cause problems and make you feel like the bike is tipping on one side. that's why the manufacturer recommends having it installed by a professional technician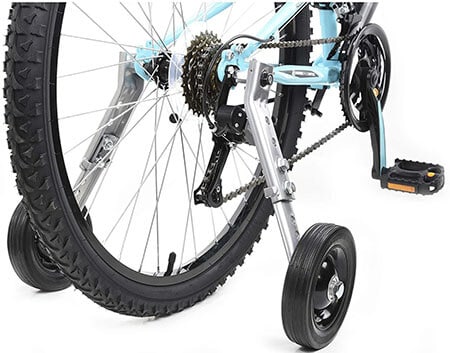 This training wheel is for you if you are learning how to ride. It's not made for high stability. It's for keeping you from falling while learning to ride.
However, FXXX has some features that make it one of the best adult training wheels. One of them is its reinforced steel construction which means durability at the highest point.
But, what will you do with long durability after you become capable of balancing a two-wheeler?
It comes with an adjustable height. That's why it can be used as both adult's and kid's bike training wheels. So, your junior can also use it after you are done learning how to ride.
You don't get the kind of stability bike-USA training wheels offered, but they are small, wide, and well-padded. So, it provides good stability and excellent control on the road. In conclusion, I can say it's worth buying for beginners.
Some people have complained about not receiving correct-sized nuts and bolts so that might require a trip to the local home improvement store.
CyclingDeal offers a bike training wheel that is between Titan and FXXX. It features a small pair of wheels that has wide tires and rubber padding on it. If you want optimum stabilization, this training wheel is perfect for you.
Something I liked most about this training wheel was its mounting system. It fits most adult bikes between 24″ to 29″ sizes. Best part about this set is that it sits tightly on the bike wheel frame. That provides really good stability.
If I talk about the built quality, it's made of steel, as expected. Wheels are also made of steel. So it can carry around 265 lbs of load. Additionally, it comes with wider tires, so you can comfortably ride on uneven roads.
How can adults ride bikes with training wheels?
You have learned how to choose bike training wheels. But that's not all. You must set up the training wheel and learn how to ride with them. So here are some tips on how to ride bikes with adult training wheels. Let's dig in.
Tip 1: Get the right pair of training wheels
I have described earlier how to choose bike training wheels. I hope you have gotten one that suits you. If you are still confused, know what makes the best bike training wheel.
Firstly, it doesn't matter what size of training wheel you use; it should align right. All the wheels (including the bike wheel) must be parallel and touch the ground simultaneously. A training wheel with adjustable height fulfills this requirement.
Secondly, the bike training wheel must have a high capacity. Though there is a standard capacity range for every rider, a higher-capacity training wheel is always a good option.
Lastly, wider wheels provide greater control and stability. So, get a pair of training wheels that feature wider tires.
Tip 2: Set them right
After getting the pair of training wheels, you have to install it right. Before that, check if there is enough extension on the rear axle nut. Otherwise, get an Extension Bolt and screw it with the axle nut of the rear wheel. Now, install the training wheel step by step.
Firstly, prepare the training wheel. For that, pump the wheels up and mount them with their frames. You can simply do it with an Adjustable Wrench.
Secondly, remove the nut from the axle bolt. If you have mounted an extension bolt, skip this and go to the next step.
Lastly, install the training wheel. For that, mount the wheel with the axle bolt and tighten the nut. Make sure all the wheels are aligned straight and touch the ground simultaneously.
Tip-3: Where to ride
Try to ride on even surfaces. Onroad is the best terrain to ride with bike training wheels. I recommend avoiding uphill terrain. Don't ride on dirt, sand, or downhill with training wheels.
Frequently Asked Questions About Adult Training Wheels
How do adults learn to ride a bike?
To learn to ride a bike, you have to practice riding a bicycle where your feet reach the ground when stopped. Check my post on choosing the right size for more information. If you're still afraid, a pair of training wheels will help. these will help you gain some confidence to ride
Do training wheels help adults?
Yes, they do in special cases. Old riders with less capability to control a bike can enjoy riding with less worry. In a few cases, training wheels serve as a learning aid. I can't claim it's the best way to learn to balance a bike. But I can guarantee it will help you eliminate the fear of balancing a bike.
Is it OK to use training wheels?
You may hesitate to ride with training wheels. But it is a game-changer for some riders. A rider with physical limitations can enjoy cycling with it. It assists the biker in balancing. So, riders with weak hands can control the bike. So, it is okay to use the training wheels.
Can you add training wheels to any bike?
Most bikes have room in the rear axle to accommodate training wheels but there are some bikes that might not be able to accommodate them.
Best way to check is to check the rear axle of the bike. If it has two nuts after the frame and some additional room, then that bike is compatible for most training wheels.
If your bike does not have room on the axle or if it is geared and has a rear derailleur, you will need training wheels that attach to the frame, rather than the axle.
Are training wheels supposed to touch the ground?
Usually training wheels are not supposed to touch the ground as you want to learn how to eventually ride a bike on two wheels. They need to be slightly above the ground when the bike is vertical.
However, in case of seniors or physically challenged people, stabilizer wheels like the Bike USA model discussed above can have both wheels on ground. But riding will be a little harder as you now have 4 wheels touching the ground at the same time
Conclusion
It's good to see people riding bicycles despite their limitations. A pair of training wheels is an excellent thing to get for a newbie or senior citizen. It stabilizes your bike and helps you to be in control.
One last word before we go, you need to avoid putting training wheels on cruisers and electric bikes. Most training wheels are not compatible with cruisers or e-bikes.
Happy cycling!