Anyone who is a frequent user of bikes would want to make sure that their bike looks spotless and shiny. After years and years of usage, your bike may not appear to look as it used to in the beginning. So, you must take a few cautionary steps to make your old bike looks just as new.
To do that, you can add a clear coat to your frame. Your bike may lose its shine and look rusty and old due to riding in muddy terrain or just being around bad weather. Adding a clear coat above the paint is an absolute necessity. 
What should you know before clear coating a bike frame?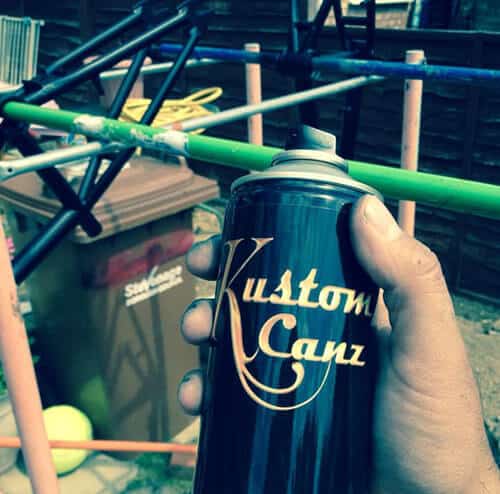 Clearly, you cannot just put the coat on your bike. You need to know a few things before applying a clear coat. Firstly you need to understand that you cannot just spray or brush the coat on bare metal as it'll rust and damage the frame.
What you should do is first apply a new layer of paint on your bike then apply to do the coating. The coating is subjected to protect your paint from rusting and terrible environments. But, it is absolutely pointless to use it before the actual painting has been done on it.
Also, keep in mind that you should not coat a bike that has already been coated. If you do, then the new layer coat won't really work. So, the key is to take off the rusty coat and then apply the fresh coat. 
Best Clear Coat choices:
So, let me guide you through some of the best clear coats on the market. 
I have seen that the USC spray max 2k high gloss is immensely recommended by most users. I even have a couple of colleagues who have used it for a long long time. It is a highly easy-to-use product where you can simply DIY it all by yourself. Just shake and start spraying, and you'll see a glossy finish that lasts unexpectedly long. 
Let us talk about the Pros and Cons: 
Pros: 
It gives a high gloss finish after drying
Easy to use. Just shake and start spraying. Great for newbies who want to clear coat all by themselves.
Even though it is said after 48 hours, you may apply colors and start polishing after 24 as some folks have done.
Cons:
You have to wait 48 hours until the glossy finish. 
Make sure you use protective gear before you start spraying as the gas can be noxious if exposed to your body.
This comes down as one of the all-rounders and one of my choices from the products I have suggested. The maxima are seen to be used professionally around bikers and ATV users and with casual users as well. It can be used on all types of surfaces, including plastic. It leaves an instant shine on your ride, and you don't necessarily need to spray on it too hard. The gloss is visible almost immediately. When it comes to relevance, the maxima brand is seen as sponsored in many racing events. The product has its cons, but it ticks a lot of good things.
Pros: 
The price is comparatively less. 
The SC1 coats plastic, fiberglass, and painted surfaces. 
The shine comes almost immediately.
The Maxima SC1 can be sprayed on tires as well. 
Cons:
It is a flammable device, so it must keep away from any kind of fire or volatile gas. 
The coating attracts dirt even though it leaves a shine.
It has to be used quite a lot since you'll have to clean it off after using it.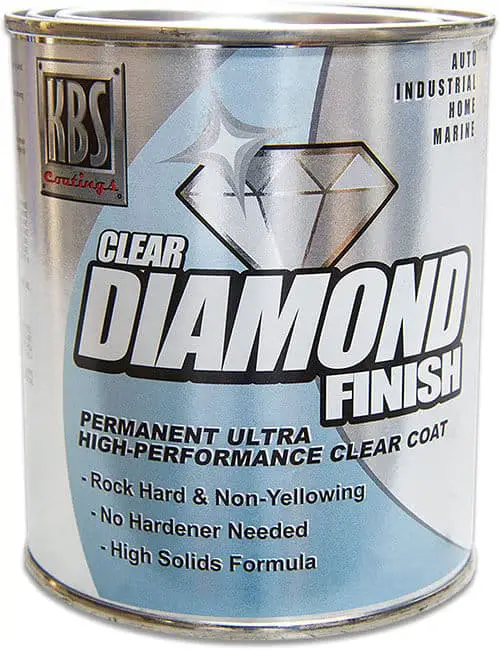 Lastly comes the KBS Diamon Finish. It has a solid formula that is a single part and is more complex than 2 part coatings. Diamond Finish uses Urethane, unlike the other brands. Urethane is an advanced coating technology that gives much richer gloss and protection from corrosion, rust, and chemicals. For anything that looks faded or aged, Diamond Finish can turn it look new. 
Pros: 
It can be directly applied to metal. Nothing extra is required beforehand.
Urethane is better than other compounds like enamel for shine.
Cons: 
You will need to get a preferred spray before starting to work. 
It is known to be getting dried quickly. 
It is recommended to use it with someone who's a professional or someone who has used it before. 
Is it okay clear coat over raw metal?
As a beginner and someone who is about to purchase a clear coat, you probably have this question on your mind. And the answer is no. It is absolutely not okay to clear coat over raw metal. Because when you clear coat over raw metal, the metal will be prone to oxidization, fastening the rust, and making it more exposed to UV rays and dust and so much more. The reactions will be similar even to aluminum frame bikes in case you ride a sports bike. 
So, the process is simple you first paint the frame, which could be a metal or an aluminum surface then start to do the coating. The purpose of a clear coat is to protect the paint from dying out so it is quite dubious to use it before the painting has even been done. 
Comparison Table
Now, I would like to attach a comparison table for you to understand which products should you buy.
Alternatives of coating
After painting the bike, you may think of other ways to protect the paint and body of your bike other than clear coating because clear coating seems like a hassle for you. Worry not! As an alternative, you can try a bicycle frame tape guard.
A good frame tape guard just like a clear coating will keep the paint shining and protect it from dirt or scratches after driving through rough terrain. It is basically a thin layer of covering made of possibly urethane or polyurethane, which will withstand dirt and paint. 
This thin layer of protective paint is perhaps a good alternative if you change your mind about using a clear coat. 
Frequently Asked Questions
Can you spray it over bike paint?
If the color is scuffed and scratched, add a few layers of paint on the torn surfaces. After it is dried down, apply the clear coat layers based on your convenience. 
Can you paint without using a clear coat?
Yes, you can but in terms of sustainability and longevity. You need to add a layer of the clear coat once you are done painting. The reason why a clear coat is added is that it protects your paint to last longer keeps the shine for a prolonged time, and protects it from chemicals and dirt. The coating should never be avoided once you're done painting. Basically, my answer is yes, you can paint it without using a clear coat, but you should not.
What do with the rusty spots when clear coating?
What you can do is clear out the rusty areas with sandpaper. Clean off the rusty parts with soap water and then rub them off with alcohol water. Try to remove as much as you can then apply the new layers of paint on the rusty party then you can further approach onto the clear coating. 
Do I need to disassemble the bike before spraying?
Yes, it is a must. You will need to disassemble the bike's parts and spray just the frame. Because you only need to clear-coat the frame but not the other parts. Suppose you end up spraying the unnecessary parts. Because the spray compound may be corrosive to the different parts of the bike. Some of the bikes may not be painted, or they may not be suitable with a clear coat. 
How do you remove the clear coat from the bike frame?
If you seek to remove the old clear coat and add a new layer then you require to sandpapers to remove the coating. Anything from 400 to 1200 grit should be okay in removing the clear coating. 
Wrap Up
Taking care of your daily driver is your absolute necessity. Even if it's for aesthetic purposes, it is your job to keep your bike looking spotlessly beautiful. A bike that looks rusty or filled with dirt is never a good sight or motivating to ride on it. A clear coat from a good brand can save your bike from corrosion, dirt, chemicals, bad weather, and primarily the shine. Before everything, you also need to know how to apply a clear coat and the types of clear coats that can be done quickly by yourself or the ones that will need professional help. 
I hope I have suggested to you the right products. If you had to use clear coat it all by yourself, then I recommend you to use the USC Spray and The Maxima SC1 as it can be DIY as well. It comes with a spray. But, apart from you are pretty much good to go with any of the three products.