Hey, bikers! Buying a bike online is more fun than buying it from a store or warehouse. Because you can get so many options in style, design, or color online, yet, it's easy & costs less money than shopping in a store.
Some of you are afraid of buying a bike online, as there is no scope of trying it before buying. It is just a myth! Storekeepers can push it in your brain for their own profit.
If you want to purchase a bike online, you can still get the perfect bike size. Just follow some simple steps that I will describe. So Let's begin our How To Choose Bike Size Guide.
Why is bike size important?
What type of bike do you use, you must ride it for fun or get speed. But the wrong size of a bicycle can slow down the ride and give you body pain. It is also uncomfortable & risky. So, before you buy, read this post and follow the steps below to get the right size.
How To Choose Bike Size: Things to Consider
Frame Size:
Frame size is the most crucial fact in choosing a bike. Some experts often consider frame size as the bike size. A small frame can cause energy loss, whereas a big frame makes it hard to extend your legs while cycling.
Too much stretching can lead you to an accident or injury. There are many ways to select your frame size. I am giving easy 3 for you.
Method 1: Bike Size Formula
The bike size is the length from the bottom bracket's center to the seat tube's top (marked blue in the picture). It is your frame size.
Now,
1. Put on your cycling shoes. Stand leaning to the wall with a 15-20 cm(6" – 8") gap between your legs. Then measure your height & inseam as in the picture below.
2. Remember your favorite bike type: Road Bike, MountainBike, or CityBike.
3. Then, Calculate your frame size from the below formulas.
Road bike – Inside Leg Measurement (cm) x 0.70= The frame size
Mountain bike – Inside Leg Measurement (cm) x 0.66 = The frame size
City bike – Inside Leg Measurement (cm) x 0.685 = The frame size
Method 2: The Size Chart
Follow those size charts below for different kinds of bikes, both for men & women.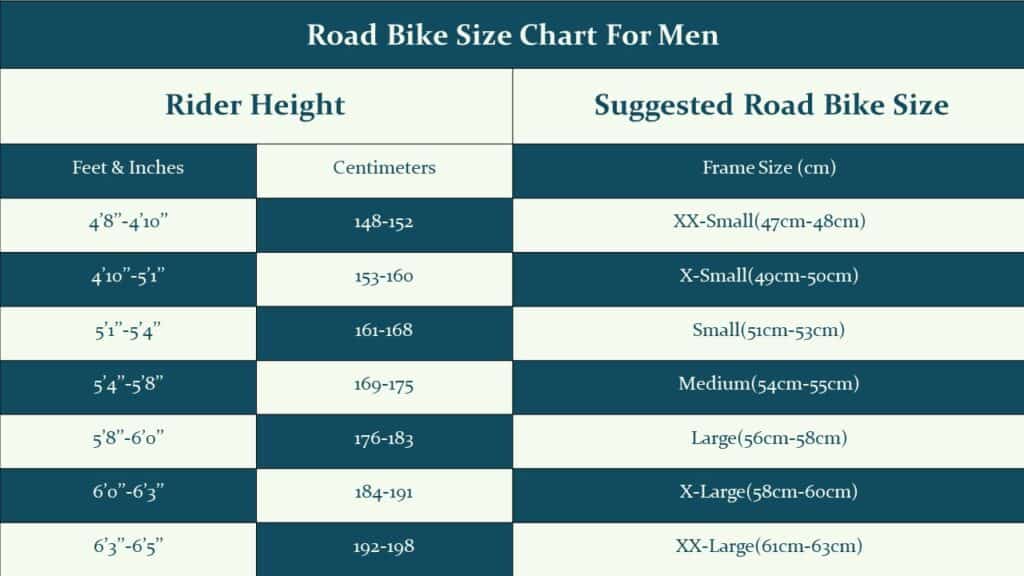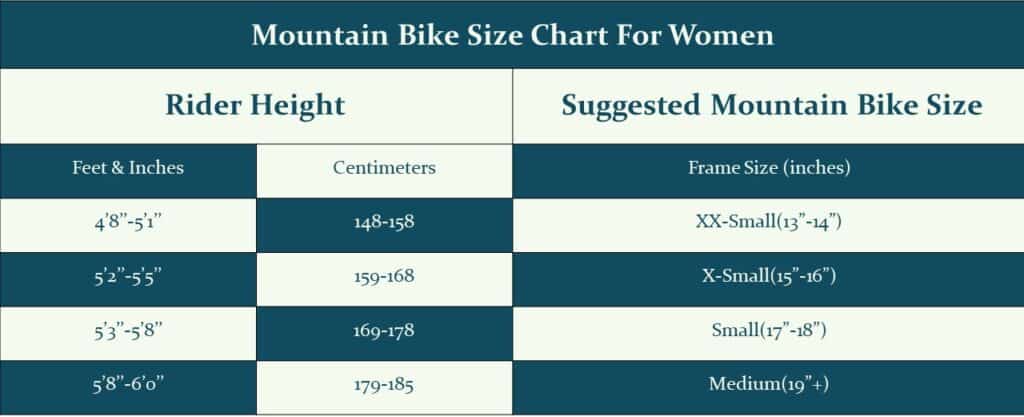 Method 3: Manufacturers' size guidelines
Different manufacturers have different sizing systems. As there is no standard system, it's best to follow their size guidelines. There are different kinds of bike geometry and anatomy. Manufacturer guidelines will help you to choose the perfect one for you.
Bonus: Sizing Calculator
A little bonus for you!
Many websites provide a sizing calculator. It makes it easy to find your size. Just to give input on your height & inseam, it will suggest the size you need. But, there is an issue. They don't claim to be 100% right. So this can not always be perfect!
Frame Geometry:
You must have a safe clearance of your groin from the effective top tube. Otherwise, you have to struggle to get on the bike. And getting off can cause hamstring injuries.
As you know, there are many types of bikes. Each has a unique style or frame geometry. Different types of bikes demand different ranges of clearance for a safe ride.
Traditional:
Traditional frames have ground parallel top tubes. Road bikes and city commuters have these types of frames. Ensure 1″ inseam clearance from the top tube.
Semi compact:
Semi-compact frames have top tubes that are near parallel to the ground. The city commuters and hybrid bikes have semi-compact geometry. Those bikes have no suspension or half suspension. So, 1-2″ clearance is enough if you prefer a city commuter or hybrid bike.
Compact:
The top tube is not at all parallel in those frames. There is a 3/4″ downslope from the end of the seat tube. Mountain bikes have this geometry. If your preferable bike has this frame geometry, ensure 2-3″ clearance. Because with full suspension, bikes vibrate a lot.
Listen to Your Body
Do you get the right frame? Good.
After getting the right frame, there are some parts you can't choose online. But don't worry! It's easy to fix them or swap them up! Asking how? Just "listen to your body."
Give priority to your body's comfort because you have your own comfort zone.
Seat Position:
The right seat height or saddle position can give you efficient paddling!
You won't want to lose much energy in paddling! But if your seat position is not right, you can lose. Moreover, you will get knee pain.
So what to do?
Sit on your saddle. Give a full paddle stroke with your right leg as you are paddling on the road.
Can you extant your leg from 80 to 90 percent?
If you can, that's great!
If you can't do so, loosen the seat post (for mountain bikes, an easy-adjustable seat post is preferable) or lose the blinder bolt with a wrench. Pull up the seat if you have less extension scope! Or push it down in case of higher extension scope!
That's it! You are in the right seat.
Ohh! Did I forget the seat arc? I am coming to it later!
Handlebar:
Your position of holding the handlebar is more crucial than you know! Many beginners can't realize it until getting back pain or wrist soreness. I skipped the saddle arc before because you have to adjust it with the position of your handlebars.
For Road Bike:
Sit on your bike & hold your handlebars.
Check whether your waist and hips form a 45-degree angle or not. Also, ensure your shoulder makes a 90-degree angle with your hands.
Adjust your seat arc and handlebars for meeting those positions as you did for the saddle. Swap up the stem if you want the handlebars closer.
For a road bike, a short-width handlebar is perfect. It gives the smooth and fastest ride.
For Mountain bikes:
For mountain bikes, those positions are not too crucial. Adjust position according to your comfort. Consider your riding time duration and the condition of your cycling track. The long-width handlebar is suitable for a mountain bike because you need stable handling on the hill track.
Wheels:
The diameter of the wheel with the tire installed is considered as wheel size. Wheel size can manipulate the parameters I described before. So you must know the standard wheel size for your type of bike. You will get the size written on the tire.
Road Bike: 
Road bikes should have a thin & lightweight wheel. The standard wheel size for a road bike is 29″ or 700c(metric system). The smaller one can favor multi-sports racers. But if you are using your bike for travel, this size is perfect.
Mountain Bike:
26×2.2″ is the standard wheel size for MTB.That means 26″ wheel diameter and 2.2″ wide tire. For road cycling or off-road, this size is perfect. The larger wheel is demandable for mountain tracks.
Children bike:
Kids' bikes don't have a specific size measurement. Whether it is the frame or wheel, there isn't a guide to follow. So, what to do? Buy the bike that your kid can ride with comfort. However, after the age of 10, anyone can use an adult bike. But before 10, there is an approximate (not perfect) wheel size provided in the below table.
| | |
| --- | --- |
| Age | Size |
| 3-5 | 300mm (12')' |
| 6-10 | 400-500mm (15-20'') |
| Above 10 | 600-700mm (24-26'') |
Paddles & Cranks:
Paddles connect to cranks and transfer your body energy to run the bike. I will not say too much about this. Just make sure you can paddle with ease. If you can paddle without any stretching, that's great! Paddles come in two options: toe clips and clipless. You should consider the clipless for efficient riding as toe clips are heavy.
Get professionals:
Now you know how to get the right size. If you still need to fit it or fine-tune it, go for a professional. It will help you to get the right size bike. Moreover, you can get some exciting deals on bike-fitting services.
You can also check out Working Bikes. They are awesome and they have good videos too on how to choose bike size. Make sure you check them out.