Vilano is a popular name among cyclists. In recent years, this brand has got famous for launching high-performance bikes at affordable prices.
Vilano shadow road bike is one of them. Alongside Shimano STI integrated shifter, this bike has many more things to come into the spotlight.
But like its name, it stays beyond the shadow. That's why we are writing up the Vilano shadow road bike review to take it to the light.
After reading this post, you will agree that this fitness bike deserves a place that it doesn't get.
How we review?
We took the expert's opinion from this field. And find out the pros & cons of the bike. Also, learn for whom it is good or bad.
Analyze real rider experience from different groups forums & e-commerce websites.
Use our own experience of riding the bike.
Key Features:
Type: Roadbike
Department: Men & women
Frame: Aluminum 6061
Fork: 700c 1 1/8″ threadless
Groupset: Shimano
Brakes: Rim brakes (dual pivot alloy caliper)
Brake lever: STI Integrated Brake Lever/Shifters
Speed: 14(2X7)
Wheel: CNC alloy 700c
Tire: Kenda 25c
Sizes: 50,54,58 cm
Handle: Drop bar
Weight: 23 pounds(10.4kg)
How is it?
Frame:
The frame is the key to speed & comfort. This road bike has stylish, aerodynamic aluminum 6061 frames—Lightweight & incredible design according to this price.
Semi-compact frame geometry favors both male and female riders. It has narrow tubing that will ensure you decent speed and a comfortable ride.
This bike comes with two colors scheme: white and black. Both look simply stunning!
Brakes & Shifters:
Shimano!
It is the word you will love to hear about a cheap bike! Vilano shadow comes with Shimano STI Integrated Brake Lever.
That means you can use the brake both for braking and shifting gears. It is an excellent combo of speed & control. 2-speed Crankset and 7-speed cassette provide decent performance.
You can expect more at this price. But, trust me, for beginners, it is more than enough. Rim brakes can disappoint you! But it works pretty well and reduces maintenance costs.
Wheel & Tires:
This bike features what you need for a pure road bike! I am talking about the CNC allow standard 700c wheels.
These wheels have reliable and robust rims with a thin Kenda 25c tire. That means you are going to get a speedy ride on this bike! Perfect for group rides and local road exploration!
Saddle & Handlebar: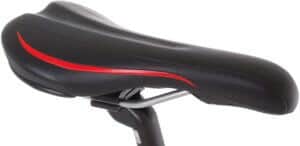 Fortunately, the saddle is comfortable! It comes well padded that ensures a comfortable ride. At the same time, it can seem uncomfortable for a long ride.
The drop-bar handle helps you to sit in a relaxed posture. You will get great speed as well as different holding positions for the handle.
In case if you missed our more individual bike reviews, feel free to look at them:
 Is Vilano Shadow Road Bike bike for you?
Now, the biggest question!
I always say that ask yourself!
I am helping you with reviewing the bike. I have already broken down all its features and explain how it works. Now it's your job to decide.
Does the bike fulfill your needs? Ask yourself, do you need this? Or do you need something else?
If your desires meet the bike features, then buy it! Otherwise, don't buy it!
This bike is suitable for group rides, fitness, commuting, and local road exploration. It is not an ideal bike for a long-distance ride.
This is not an MTB or hybrid bike. So you can't ride offroad or hilly terrain. It is perfect for learning to ride. So, for a beginner, it is the right choice.
Reasons to buy Vilano Shadow Road Bike:
You will get the value of the price.
Stylish, aerodynamic design gives an attractive look to the road bike.
STI integrated brake-shifter combo is good for easy shifting and ensures excellent stopping power.
Lightweight frame boost up speed.
Quick-release tire eases maintenance.
Easy to assembled
Free paddles and bottle mounts are included in the shipping package.
Reasons not to buy Vilano Shadow Road Bike:
The brake-shifter feels like plastic like components.
Tuning is a must to do after purchase for good shifting of gears.
For road bikes, 14-speed derailleurs are not preferable to some customers.
The saddle is uncomfortable for long-distance riding.
Few people received a flat tube and poorly conditioned tire.
Some customers complained that some parts are missing from the shipping package.
More than one people face a problem with the drivetrain and cassette.
Conclusion:
Vilano shadow gives the value of the price. It has some exciting features at an affordable price. Overall, it can be a good deal for beginner cyclists or entry-level racing enthusiasts.
It will need an upgrade and tuning for the best performance. After that, you will get a good riding experience. Handling and control are good on the bike.
14 speed is a little less for racing. If you need more speed and better specifications, go for updated models like Vilano shadow 2.0 or 3.0.