Vilano diverse 3.0 is an exciting hybrid road bike for beginners. In many aspects, it deserves to be your first bike. It has some exciting features that are rare at this price point.
But, the question is, is it worth buying? Read this Vilano Diverse 3.0 Review before you buy your first road bike. I promise you that it will help.
How do I review Vilano Diverse 3.0?
I took the expert's opinion from this field. And find out the pros & cons of the bike. Also, learn for whom it is good or bad.
Analyze real rider experience from different groups, forums & e-commerce websites.
Use our own experience of riding the bike.
Key Features:
Type: Hybrid/Road Bike
Department: Unisex
Frame: Aluminum
Fork: Aluminum
Groupset: Shimano
Shifter: Shimano EF51 integrated brake lever
Brakes: Mechanical Disc
Speed:24(3X8)
Wheel: Weinmann 700c
Tire: Kenda 35c
Size: 49,53,57 cm
Handle: Flat Bar
Weight:26.5 pounds(12kg)
How is it?
Frame:
This bike has a semi-compact aluminum frame. Stylish & lightweight according to this price. This frame geometry favors both male and female riders. It also ensures decent speed and a comfortable ride. 
Groupset:
The 24-speed Shimano EF51 shifter gives a smooth shifting. Vilano diverse 3.0 comes with a 3-speed crankset and an 8-speed cassette which is more than enough for a beginner cyclist.
You will get great control both on-road & offroad with 24 speed. For a cheap bike, it is incredible. 
Brakes:
For this bike, the dual mechanical disc brake is the most exciting feature, I feel. It offers excellent stopping power.
Disc brakes work in any situation, like on a muddy road in the rainy season, what you expect from a hybrid bike. And indeed, this is very rare in a 300-400 $ bike. 
Wheel & Tires:
This bike comes with Weinmann 700c wheels, which are ok for the bike. The reliable and sturdy rim can take about 275 pounds of load.
The 700cX35c tires from Kenda offer a great combination of speed & control. It favors both on and off-road rides. That makes the bike more versatile. 
Saddle & Handlebar:
Coming to the upright flat handlebar, unfortunately, it is not adjustable but quite comfortable. That is very crucial for off-road rides.
The saddle is ok. But we noticed some customers feeling uneasy with the saddle. If you also feel uncomfortable with it, then swap it up.
Is Vilano Diverse 3.0 for you?
The billion-dollar question! Let's ask you. What do you want? Why are you buying a bike? This bike will suit you if you are buying a bike for commuting, group rides, or fitness.
With this bike, you can ride both short and long-distance. But, long-distance riding can be a little uncomfortable. 
You can use it on the road or off-road. It doesn't mean you can climb hill terrains with the bike. Remember, this is a hybrid bike. 
Please don't confuse it with mountain bikes. It is suitable for the countryside road or muddy road, not for hills. If you are looking for your first bike for many purposes, this is perfect for you.
In case if you missed our more individual bike reviews, feel free to look at them:
Reasons to buy:
You will get the value of the price.
Disk Brakes help in any condition.
Easy to assemble.
Lightweight & durable.
The quick-release tires ease maintenance.
Shifting is smooth, and 24-speed gear can handle any situation.
Great commuter or starter bike. Also suitable for multipurpose use.
Reasons not to buy: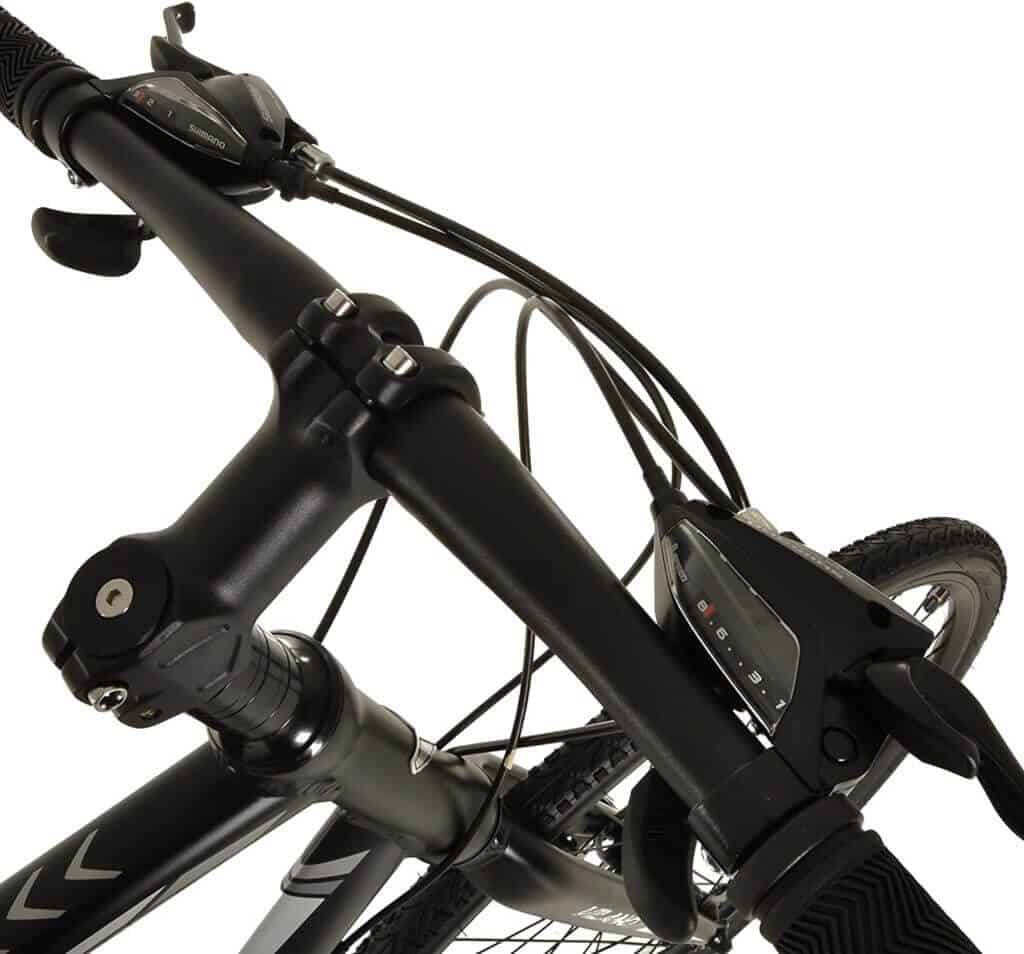 The saddle is a little uncomfortable.
The handlebar is not adjustable. Can be a bit uncomfortable for a taller rider
Shifters need tuning after assembly.
Frame sizes are big. It is not comfortable for short people.
More than one customer receives rusty spokes after purchase.
Conclusion:
Vilano is offering a high-performance hybrid bike at such a low price. Dual disc brakes, 24-speed Shimano components are rare at this price point.
On the other side, it performs well in many aspects. Overall, it is a great deal on hybrid bikes. If you are searching for a performance bike, it will not let you down.