Started in 1990, Trinity is an enterprise group that works solely in the production, development, and distribution of bicycles and their components.
Its headquarter is in Guangzhou, China. They are successfully offering a series of bicycle brands and riding equipment and have consumers worldwide.
Bam! Today I will break down one of its products; means Trinx tempo 1.0 review. So let's get started.
The Trinx Tempo is an aluminum road bike equipped with 700c wheels and a 21 speed Shimano groupset. The fork is steel-made, and there are WinZip brake calipers.
So without further delay, let's start our in-depth review on The Trinx Tempo 1.0 Road Bike.
How I reviewed
Our reviews are based on the exclusive opinion of the experts.
Pros and cons are made on hands-on experience of riders expertise in this field.
We have written our reviews based on the real riders' experience who rated it on various social media groups and forums.
Specifications
Frame:  Aluminum Alloy
Sizes:   460mm, 500mm, 540mm
Fork:     Hi-Ten Steel 700C
Brakes: WinZip Alloy Side Pull Brake
RIM:      Trinx Alloy Double Wall
Pedals: BMX
Shifter:  SHIMANO SL-A050
Tires:    CST 700C*25C 27TPI
Chainwheel: 28/38/48T*170L
Net Weight:  25.0 lbs
Front Derailleur: Shimano FD-TZ31
Rear Derailleur: Shimano RD-TZ50
Hubs: Trinx Steel Bearing
Colors: Matte Black, Blue-Black, Black/Red/Green/White-Blue, Matte Grey
Release Year: 2019
Overview of Trinx Tempo 1.0 Road Bike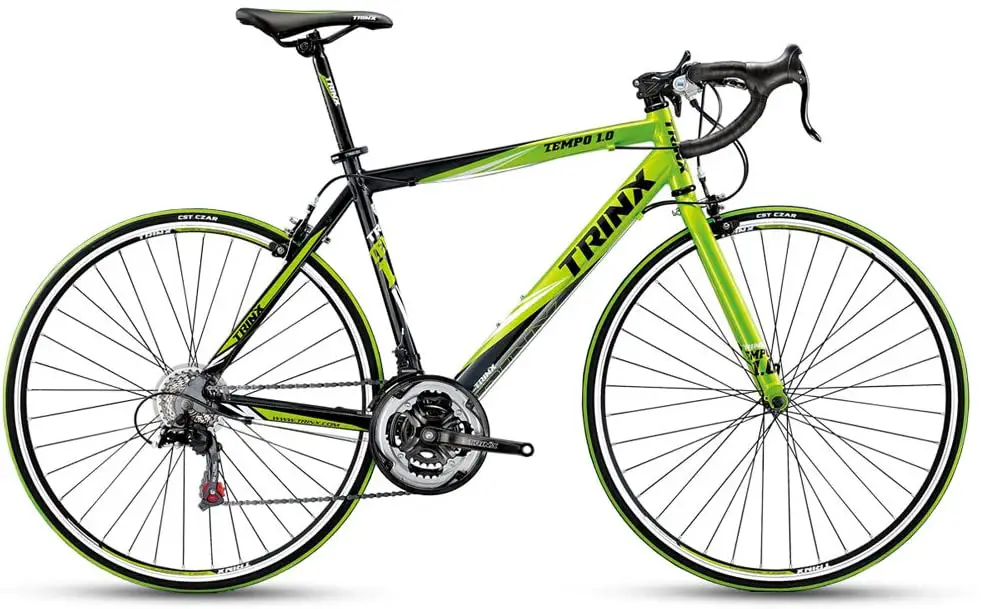 Frame & Fork
Your ultimate key to comfort is the bike's frame. Trinx Tempo constructed an aluminum frame to hold your weight irrespective of any condition. This special Alloy shaped tube frame is relatively lighter and exceptionally resilient. This frame comes in three different sizes – 460mm, 500mm, and 540 mm, respectively. It has a compact design that helps you to sit upright and ride with comfort.
The steel fork can seem heavy. But it's robust and durable enough, which is OK with the price.
Brakes & Shifters
Considering the ease of beginners, Trinx Tempo provides WinZip alloy dual brakes. This helps the rider to stop anywhere effectively with absolute power, even on wet roads! You are also able to avoid sudden unexpected obstacles during your trip.
Shifter gears- Front Derailleur Shimano FD-TZ31 and Rear Derailleur Shimano RD-TZ50 are proved to be pretty much impressive. The shifter is a little heavier than the other advanced options. Still, these components are made to ensure exceptionally smooth shifting so that you can enjoy a diverse flavor of riding. All these components are made by the same manufacturer. They have more synergy of operation, creating a sleek and elegant design.
Wheels & Tires
Trinx Tempo provides you 700C colorful wheels matched with the frame that add elegance and beautify your bicycle. As a result, it quickly grabs the attention of bikers who love colors! Double-walled alloy rims are light and robust. They play a significant role in protecting the wheel from outer obstacles.
The matching tires are designed in a way to minimizes rolling assistance. Hence the effort that you need to accelerate and keep your bike gliding is reduced to half. These 25mm tires are proven to be long-lasting and suitable for city streets.
Saddle & Handlebar
If you are a passionate rider, then you must know the importance of a comfortable saddle! And this bike provides you SR supported saddles. But it might be a little uncomfortable if you go for long rides. So, it's better to swap it up.
However, the 430mm drop handlebar from Trinx is of Hi-Ten Steel Rod, which has a robust grid to hold and avoid obstacles during your trip. Moreover, it has a design to sit in three different positions (aggressive, down, and comfortable).
If you like our product reviews or missed or interested in our previous content please feel free to check:
Is Trinx Tempo 1.0 bike for you?
All the necessary information has been provided regarding this bike and its components separately.
Now you are the one to decide, right? By now, you must have thought about your expectations and whether this bike can fulfill those or not. Take your time and choose wisely.
If you are looking for a road bike that will give you a little faster experience with a comparatively lower price, then just grab it!
The Trinx Tempo never compromises with the quality of its materials. So they are trustworthy as well.
Perfect for beginners! Suitable for bikers who prefer comfortable upright riding positions on a bike.
Reasons to buy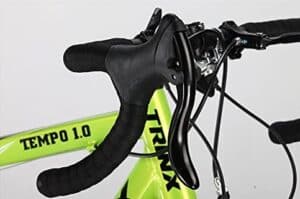 Very light in weight
Gears are smooth so that you can easily change whenever needed
Overall performance is quite impressive
Easy Assembling
There is a steel fork that effectively absorbs all the shocks and bumps
You get various appealing color options and paint designs
High-speed and long-lasting road tires
Shimano drivetrain enables better synergy
Pretty good wheels
The low price attracts beginner riders.
The bike's geometry is comfortable enough to maintain a healthy riding position.
Reasons not to buy
The saddle is uncomfortable if you go on long rides.
Brakes often tend to bend chainring.
Rims often lead to repeated punctures.
WinZip calipers don't come with a good reputation sometimes.
Conclusion
Well, if you are looking for a bike that has got standard speed and elegant design under $500, then, believe me, this would be your best companion during your bike trips. You don't have much space to complain about its faster speed compared to its price. Also, you achieve full control over your bike while riding. The Shimano drivetrain boosts synergy for your bike. Overall performance is quite impressive.
Trinx Tempo is sold widely in the USA, Russia, Italy, Philippines, Taiwan, and Iran. For beginner riders living in those areas, this bike became an affordable entry-level option.