Many people doubt suction cups based bike racks, and I don't blame them. After all, can you truly trust this fixture to hold your bike in place on a moving vehicle when its failure could mean thousands of dollars wasted on bike and vehicle repairs?
SeaSucker claims its bike racks can secure your bike to your car's roof, trunk, or even back glass window! It's a promise they deliver on, thanks to their powerful vacuum cups (provided you use them properly). Learn more about these bike racks, their safety, and their different models.
SeaSucker bike racks are generally safe, but they can fail if proper precaution isn't taken. Make sure to attach the bike to the rack properly as per instructions, keep the suction cups clean, and don't drive over their rated speed limit. Follow these rules, and you should be good.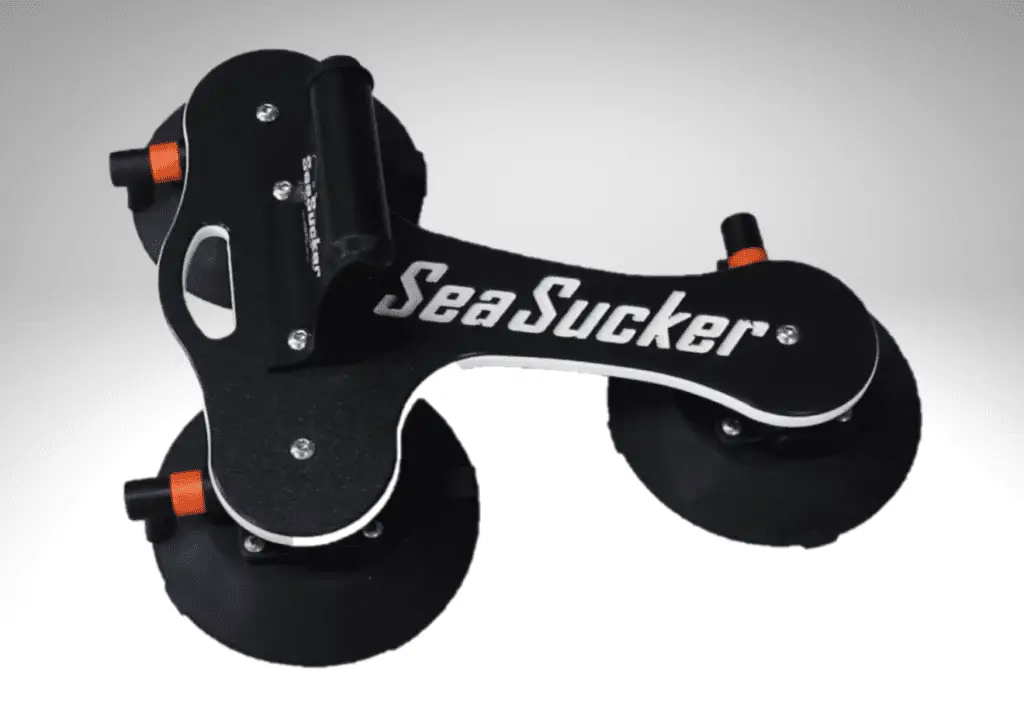 How Are SeaSucker Bike Racks Different?
SeaSucker bike racks differ from standard bike racks in the surface you attach them to. Typically, you attach a bike rack to the hitch or the trunk lid. They're permanently secured to these surfaces, but that doesn't apply to SeaSucker bike racks.
These products are removable mounting systems, which you can secure to the roof of your car! After your trip, you can remove the bike and the rack. But how can your bike remain steady on the road? The secret lies in the rack's vacuum mounts, which secure your bike with strong suction.
Are SeaSucker or Other Suction-Based Bike Racks Safe?
Bike racks' safety depends on the quality of their suction cups or vacuums. The cups make or break a bike rack, determining whether it can secure your bike to a car or not.
SeaSucker's vacuum cups are marine-grade cups, which invites trust in users and ensures your bikes' and cars' safety. To illustrate, they offer 4.5" vacuum mounts that are 120 lb pull-strength rated. Even better are the 6" vacuum mounts with a rated pull-strength of 210 lb. And with multiple vacuum mounts on a rack, you get amazon holding power!
However, some knock-off brands offer racks that can only hold 110 to 165 lbs but have failed users repeatedly. On principle, suction-based racks work, but you have to make sure to choose high-quality bike racks.
Different Types of Bike Racks They Offer
What types of bike racks do SeaSucker manufacturers offer? SeaSucker bikes can be classified according to how many bikes they can hold. While many of their bike racks support a single bike, their Road Deluxe Kit, Mini Bomber Rack, and others are designed to hold two bikes together. They also offer a Bomber for three bikes!
Another classification relates to the type of moving vehicle to which the bike rack can be attached. Many of the SeaSucker bike racks work with any car. However, you have the Hornet Hatchback/SUV Bike Rack for hatchbacks, SUVs, minivans, and the Komodo for sports cars and convertibles. So, choose a bike rack that accommodates your vehicle type.
Are SeaSucker Bike Racks Prone to Failure?
SeaSucker bike racks are generally safe; however, they could fail if you make one of the following mistakes.
Your rack won't support your bike if you don't mount the bike correctly on the rack. The bike should face forward; if it's backward or sideways, the rack might not work, and your warranty will be void.
You should keep the car roof and vacuum cups clean. If not, dirt will undermine the coerce between the mounting surface and vacuum cups.
Traveling at high speeds can minimize the cups' hold on your bike because of crosswinds, causing it to fall. SeaSucker racks are speed tested for 175 mph; most of us wouldn't have a problem staying under 175 mph.
How to Properly Care For SeaSucker Bike Racks and Avoid Rack Failures
Following instructions for your bike rack diligently ensures safety for your bike and the car. For one, you have to check the orange indicator band, demonstrating your cup's amount of vacuum power.
When the vacuum pump's plunger protrudes from the pump cylinder and reveals an orange indicator band, it's time to re-pump your rack. So, always check before you start driving after gas or food breaks.
Another tip is cleaning. You want to remove dirt from the mounting surface and the vacuum pad because a smooth mounting surface protects you against rack failures. A wet paper towel or napkin should do the trick. Just before installing, wipe the area where the suction cups will go and also the cups themselves.
As for storage, you should put the SeaSucker vacuum mount in the protective cover that comes with it. Ensure its edge presses all the way into the cover. Otherwise, the vacuum mount's shape could change, causing it to lose suction.
Questions and Answers
Will SeaSucker Fit on My Car?
Yes, SeaSucker has racks for every car size. Even if yours is a camper, RV, convertible, or sports car, you can purchase a bike rack like the Komodo. The bike rack only needs 18" x 12" of space for small open surfaces.
How Long Will My SeaSucker Hold?
The duration depends on the condition of the vacuum mount, the condition of the mounting surface, the bike load, and more. However, the orange indicator band will show you when your bike rack needs a pump.
Can the SeaSucker Bike Rack Damage My Car?
The SeaSucker rack is mostly safe. Its stainless sword is doused in fictile, preventing damage to your car's paint. Nonetheless, if your bike slips, it can damage your car, so follow the instructions for usage to avoid damage.
Which Rack Is Best for E-bikes?
The Mini Bomber is designed for E-bikes with its fork-mount design. It features four 210 lb pull-strength rated vacuum mounts to support the heavy weight of E-bikes (compared to regular ones), preventing bike failure.
Conclusion
You can trust SeaSucker bike racks, which feature high-quality suction cups with a rated pull strength of 120 or 210 lb. You must clean the vacuum mounts and mounting surface, store them in their protective covers, mount them correctly, and drive responsibly. Do so, and you won't have to worry about SeaSucker bike rack failure.