Radpowerbike is an electric bike brand reputed for manufacturing premium e-bikes at affordable prices. Its vision is simple; offering high-quality bikes to mediocre ones. Radpower bike is one of the best for those who want electric bikes for utility.
However, both RadCity and RadRover series offer classic commuter-style electric bikes. Moreover, both come in the same price range.
For example, the latest models, RadCity 5 plus and RadRover 6 plus cost around two thousand bucks each.
For being so similar, people start comparing them with each other. Thus, the debate came out.
Anyways, let's try to end the debate. I will compare these two electric bikes on more than 10 factors here.
Then, I will give scores to them and declare a winner at the end. Let's start!
Overview of RadCity vs RadRover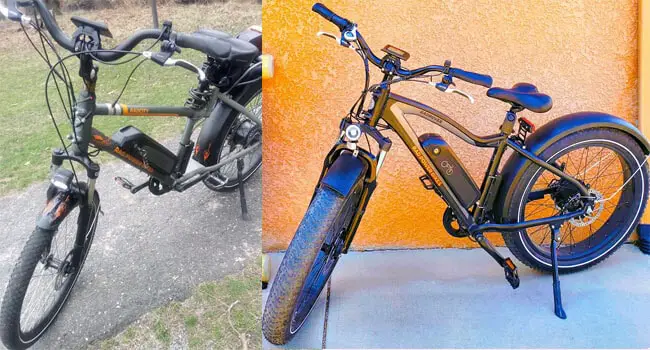 RadCity 5 plus and RadRover 6 plus are manufactured by the same brand. So there are many similarities between them. For example, both bikes feature 750 watts geared hub motor.
Besides, both bikes come with a 48V charger to charge their 600wh battery. Like this, all the core features are almost similar in both bicycles.
But the civil war continues because of subtle differences between them.
RadCity is more like a classic commuter bike. Other hands, RadRover is an adventure bike for a multi-terrain experience. You can't differentiate them on features.
So, I will compare them on practical pros and cons. The comparison will include their electrical side and physical side. Before that, let's have a quick overview.
| | | |
| --- | --- | --- |
| Feature | RadCity 5 Plus | RadRover  6 Plus |
| Motor | 750 Hub motor | 750 Hub motor |
| Battery | 589-672 W | 589-672 W |
| Assist | Pedal-assist | Pedal-assist |
| Millage | 28-50 | 25-45 |
| Frame | Aluminum 6061 | Aluminum 6061 |
| Groupset | 7 Speed Shimano Atlus | 7 Speed |
| Wheel | 27.5 x 2.0" | 26 x 4" |
| Brake | Hydraulic disc | Hydraulic disc |
| Suspension | 50 mm travel | 60 mm travel |
| Rack  | Integrated (27 kg) | Optional |
RadCity vs RadRover: The ultimate comparison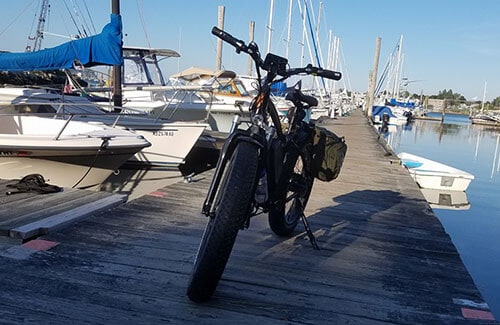 Here is the comparison between RadCity and RadRover. I have broken it down into 10 practical factors. I will explain which one is better at which point. Let's see which one scores more and becomes the winner. Let's start.
Power
When I am talking about electric bikes, battery and motor are the core components. However, the power of an electric bike is the motor's power. It determines the rpm and decides how fast the bike will go.
Both RadCity and RadRover feature a 750 W brushless geared hub motor. It's more than enough to raise the speed high on any terrain. Besides, both bikes have a half twist throttle. It can precisely control the motor power.
There is no difference between RadCity and RadRover in terms of power. Both are powerful yet optimized. So, it's a tie between them.
Speed
Speed depends on the motor power. Both RadCity and RadRover feature a powerful 750 Watt hub motor. So the speed should be the same on these bikes. Right?
Not really. Speed depends on many other factors alongside motor power. Aerodynamics, wheel size, and tire width are some of those factors. Both bikes have almost the same design and same wheel size.
But the tire width is different in these bikes. RadCity has thinner tires that have low resistance on the road. So, Radcity can run faster than RadRover.
Moreover, air resistance is also lower in the RadCity bike because of its minimalist design. Overall, RadCity's speed is higher speed than RadRover's. 
Control
It's good to go fast with minimum effort in paddling. But control is also crucial alongside speed. Otherwise, it can be dangerous to ride on the ebike.
Like any other radpower bike, RadCity and RadRover have excellent control systems. However, the control system can be divided into 2 sides: electrical and physical. Let's see whose control system is better.
Both Radcity and Radrover come with frame integrated controllers. It operates and coordinates all the electrical components. Moreover, both feature half-twist throttle, which can precisely control the motor power.
Besides, both bikes offer 7-speed gear that can be shifted by thumb shifters. So, you can assume the control system is almost similar in RadCity and RadRover. But, the handlebar plays a vital role in the control system.
RadCity comes with a shorter handlebar. It provides higher stability but poor control of the steering.
On the other side, RadRover has a longer handlebar, which offers lower stability but better control.
Assist
Assist is the thing that makes a bike an ebike. There are two types of assist: pedal assist and throttle assist. Pedal-assist means the power will be controlled by peddling. If you peddle slow, motor rpm will be lower.
Peddle faster if you want to ride at speed. In short, you will get the real cycling experience with minimum effort in pedal assist.
On the other side, throttle assists help you to control the motor power manually. You can do it simply by twisting the throttle.
Thankfully, both bikes feature a half-twist throttle and a half pedal assist together. It's really impressive from RadPower bikes. You can get the assists when which is necessary.
But again, you can determine a winner between RadCity and RadRover. Both of them are the same in terms of assists.
Backup
Both RadCity and RadRover come with a 589-672 Wh battery. You may think the battery backup is also the same in these bikes. But in reality, RadCity provides higher battery backup.
It happens because of the wheel size and overall weight. RadRover is heavier than RadCity. Moreover, RadCity comes with wider tires. Thus, a portion of energy gets loss in overload and friction.
As a result, you get slightly lower milage in RadRover. Other hands, the Radcity runs fast with its thinner tires. It can travel 5 miles more with the same battery backup. So, in terms of mileage, RadCity is the winner by a few points.
Comfortability
The comfortability of an electric bike depends on many factors. The frame geometry is one of these factors.
Both RadCity and RadRover come with a step-thru or high step aluminum frame. It covers a wide range of sizes that fit all kinds of riders.
Whether you are a six-footer or shorter than 5 feet, you can sit comfortably upright. So the sitting positions are equally comfortable in RadCity and RadRover.
But other factors have a significant influence on comfortability. The tire, saddle, grip, and suspension are some of them.
Anyways, let's compare the bikes on these parameters. According to customer reviews, RadRover has a better saddle to sit on. It's an ergonomic saddle with a lifting handle.
In comparison, Radcity has a decent saddle. Moreover, RadRover can provide a better cushion with its wider tire. So, it's the winner in terms of comfortability.
Utility
If you are looking for a utility bike, RadCity is far better than Radrover. RadCity is designed for city commutes. So, it fits well in your day-to-day use. It can carry over 275 pounds.
If you weigh 80 kg, you can still take 40 kg extra loads. Besides, it comes with an integrated rear rack. You can go shopping, transport goods, or even carry a pet/kid.
Moreover, this bike features front basket/carrier mounts. So, you can carry the load wherever you want. 
Well, If you ask me about the radar over, it has basic utility too. But, it doesn't come with an integrated rear rack. Besides, it doesn't facilitate basket/carrier mount. So, RadRover is not a utility bike, basically.
Safety
Safety first!
However, the safety of an e-bike depends on the brakes. Both RadCity and Radrover feature hydraulic disc brakes with ceramic braking pads. Besides, the brake levers are made of aluminum alloy, which has a motor cutout switch. So the braking system provides excellent safety and control.
As both bikes feature the same braking system, it's difficult to differentiate them in terms of safety. Moreover, both bikes come with ergonomic rubber grip. It provides better control and safety. But, at one point, these bikes have a significant difference.
Yes, the tires. I have explained earlier how tire width influences different factors like speed and control. Wider knobbly tires mean better control on the road.
Thinner tires are good for speed, but control gets poor with it so is the safety. So, RadRover is safer because of its wider tires.
Durability
Durability is another term by which these e-bikes can be compared. But again, it won't be so exciting to compare the RadCity and RadRover. Because it's difficult to differentiate them based on durability.
Both bikes have full aluminum bodies. Starting with the frame itself. It's made of Aluminum 6061, which is more than decent in construction.
Besides the crankset, brakes, seat post, wheel, suspensions, and almost everything is of aluminum alloy. It's lightweight yet rustproof, so it lasts long.
However, durability may vary from user to user. If you are a hardcore biker, durability will be lower. You will get higher durability if you ride less frequently. So, here none of RadCity or RadRover is the winner. The winner is the rider.
Versatility
I have discussed all possible parameters on which the bikes can be compared. Now let's talk about their versatility. Both electric bikes are best for what they are made for. But, can you use them for any purpose?
Well, Radpowerbike describes RadCity as a rush-hour rebel. It means you can go fast when the city is in a rush. It makes your commuting experience easier and faster.
The minimalist design and thinner plain tires make it happen. But the problem is narrower tires mean poor control/stability.
For that, RadCity can't provide much safety on hill tracks. Other side, RadRover is an adventure-ready bike.
It can precisely run through hill tracks or gravel roads. With its knobbly fat tire, you can bang up any road without any worry. Besides, you can commute at a decent speed with it.
So, RadRover is a clear winner in terms of versatility.
The Winner!
You must have understood that there are many similarities between RadCity and RadRover. But they have some subtle differences too. These differences distinguish these bikes from each other. Also, these differences serve the purpose the bikes are made for.
So, if you want an electric bike for purposes, both bikes are the winners. But you are here to choose one, right?
Well, it was hard to choose the overall better one. It was a close competition, like 7 points against 6 points. Finally, RadRover becomes the winner for its versatility and multi-terrain experience.
Frequently asked questions
What class are rad electric bikes?
Rad electric bikes are of class -2. It means the bike has both throttle-powered mode and pedal assist. This assist system can help you raise the speed up to 20 mph. Besides, it's convenient for any situation or condition. So, rad electric bikes, broadly class-2 bikes, are best for beginners.
Are Rad bikes made in China?
Yes, all the Rad bikes are made in china. Though the brand is from the USA, the production line is in China. It has some benefits. For example, e-bikes are shipped directly from china whenever you purchase. Thus, you can ensure the authenticity of the Rad bikes.
How fast does a RadCity ebike go?
RadCity electric bike goes really fast. It comes with a powerful 750-watt hub motor that can help the electric bike raise its speed up to 20 mph. It is more than decent as an electric bicycle. If you want mobility in your daily life, the RadCity ebike is the best.