Hey Cyclists,
When you were new to cycling, and somebody asked, "What about must-have bike accessories?" What did you answer?
Maybe something but not satisfactory! Because it's easy to choose a perfect bike for yourself. But when it's come to buying cycling gear, it's a vast market, and various items are overwhelming here.
Whether you are a daily rider, pro cyclist, or weekend warrior; some gear is a must for an enhanced riding experience. But, all the accessories are not for you. Some riders purchase lots of them that have no utility at all. Among safety, comfort, luxury, and fashion, what comes first to you?
Maybe safety and comfort! Right?
So, today we will be discussing some best bike accessories that you must have. Each gear we have suggested keeping your need in mind.
Do you need all of them?
No! A straight No!
An accessory that is useful to others can be useless for you. Take the kid carrier, for example. If you have kids and love to commute with them, then it is beneficial for you.
But, when you don't have kids, what will you do with a kid carrier? Like this, all the accessories on our list is may not necessary for you.
So, what I will do; will keep the must-have (for every rider) gear at first. Then I will introduce the optional and luxurious items consequently.
Paddles & Shoes
It sounds weird that a 1000-dollar bike comes without paddles. It's because there are many types of paddles, and bike manufacturers don't know which one you like. This system can seem annoying but great for fulfilling your needs.
However, paddles come in 2 different styles: clipless and flat. Flat paddles are lightweight but less efficient.
Clipless paddles offer excellent grip and control on the paddle. Suitable for professional cycling, it's a bit pricey. Being heavy, it's not perfect for casual riding.
More for clipless, a pair of cycling shoes is necessary for flat paddles too. For clipless, matching shoes are mandatory for an excellent grip. Cycling shoes are featured with comfortable stiff soles for reducing feet soreness. It favors efficient cycling too.
Flat soles are rarely found in cycling shoes, but the majority of them come with thread. It is so that you can connect the cleats with clipless paddles.
Bike Locks
Bike theft is an unpleasant event for cyclists. When you have spent thousands of dollars on the bike and it theft in a few minutes, it's heartbreaking. If you have to park it on the street during commute break, it's a critical security issue nowadays. So, a strong bike lock is a must for protecting your beloved bike from being theft.
What we have done; have kept the must-have (for every rider) gear at first. Then we have introduced the optional and luxurious items consequently.
Bike locks come in various styles and shapes. The U lock or D-lock ensures the best security among them. But a combo of a D lock with a cable lock provides extra protection and makes it almost impossible for a thief to break it.
However, if you are confused about a lock's performance, learn about the Sold Secure ratings. They are reliable security equipment testers. For bike locks, they have established gold, silver, and bronze rating.
A bike lock with a gold rating provides 100% protection from a cut of TCT Hackshaws or Large bolt croppers. It can give you peace of mind while using a gold-rated bike lock.
Helmet
There may be a debate on whether the helmet is compulsory or not!
Well, Countries like the US have established laws to make it compulsory. Don't know, is it mandatory or optional in your city. Forget all this. Do you really need law and order to keep your head safe?
Whether you are a casual rider or a pro cyclist, wear a helmet while riding. It will save your head from a severe injury. Moreover, it will make you feel ride-ready.
For an urban rider, a low-end but comfortable helmet can be ok. But a strong and heavy helmet is a must for mountain bikers. Lightweight and aerodynamic helmets are perfect for road races.
However, all the helmets should have proper ventilation, padding, accurate size, retention, and additional safety features like MIPS and Wavecel.
Bell
Cring Cring!
A bike bell or horn is an essential gear for communicating with the traffic. On busy roads, it's challenging to pass the traffic without a bell ring. Most of the bikes come with a bell. But, they are not loud enough and boring in looks. We have brought some exciting deals on bike bells with beautiful designs.
Kickstand
The kickstand can seem an ugly idea to you. Because it reduces aerodynamics and spoils the look of a bike. For this reason, most of the racers and mountain bikers ignore it.
Well, I agree with you. A kickstand may not be a good idea for an aero bike or Mtb. But, for a touring bike or commuter, it's essential to have. Having a kickstand can reduce your hassle to park the bike. How long will you look for a pillar or tree to lean the bike? Get it and park your bike when and wherever you want.
For buying a kickstand, consider your type of bike and decide where to mount it. The lightweight and robust material is the best for a kickstand. You can consider aluminum for it. However, double leg stands are suitable for touring bikes, where the single leg is preferable for road or commuter bikes.
Anyways, which one you choose doesn't matter; it should be easy adjustable and compatible with your bike.
Mirror
A looking glass or mirror is a must for daily commutes. On the busy roads, you can't say what is coming toward you from behind. So, having a bike mirror can enable you to see traffic behind you. It's a safer and handy solution against turning the shoulder to look back.
However, before getting a bike mirror, you have to decide where to mount it. Because it comes with many styles as per mounting systems. Choose a place from the handlebar, handlebar's end, and helmet. Think about which location will be easy to look at it.
Besides this, you should consider the size, adjustability, and compatibility of the mirror. It's great to have mirrors for both sides, but a right-hand mirror is more important to have.
Lights & Reflectors
Lights can illuminate your path and reflectors brighten you in the traffic. Not only at night but also in daylight, reflectors and rear lights are crucial for being seen.
If we talk about headlights, a bright and durable front light is a must for riding on dark roads. Light brightness is expressed in lumens. A 100-200 lumens light is bright enough, but you can get more glowing light of 1000 lumens. However, it's not necessary to have high brightness, but 400-500 is a decent range of lumen for a bike light.
Anyways, besides light reflectors, you will need a red rear blinker to be seen among traffic. 20-30 lumens is bright enough for a rear blinker, but 50 lumen is the safe zone for it.
Lumen is not the only consideration while buying a bike light. You should consider the lux count, battery life, water resistance, mounting system, and other facts.
Repairing Kits
DIY is a smart idea to reduce the maintenance cost of your bike. Some pieces of stuff are easy to do at home if you have some kits ready. Let me give you an example.
A flat tire is an irritating situation for every rider. And when it happens in the middle of a ride, it breaks the barrier of patience. So, having spare tubes at home or while riding can help you to fix the flat instantly. It's easy to carry and benefits in a crucial moment.
However, before buying it, consider the wheel size. For example, most of the adult road bike has 700×25 c wheels. That means the wheel has a diameter of 700c (metric system) with a 25c wide tire. Besides the size, you should be careful of the material it has been made of.
Butyl rubber tube is affordable and most common in spare tubes, where latex performs better, of course, costs more than butyl.
Anyways, a tire lever, a pump, and some tools are needed alongside tubes to fix a flat.
Multitool
When you buy a bike online, it comes without being assembled. So, it needs assembly after getting the shipping package. Most of the time, you will need to adjust the saddle and the handlebar of a brand new bike.
For solving all these problems, riders run after the fitting experts. Well, I am not saying that you don't need professional fitting services. Of course, it's essential for getting the best fit. But, some stuff can be done by yourself if you can get a multitool.
Multitool comes in many sizes with various functionalities. Some of them are heavier and bulky in size. We suggest getting a lightweight and portable one that is easy-carriable. But, make sure it has enough tool options that go with your bike's nut-bolt system.
Pump
It's annoying to search for a bike shop every time to pump the inner tube. So, it's better to have a home floor pump. You can maintain perfect air pressure on tires if you have your own one.
Correct air pressure on the tire is a must to avoid puncture and to ensure efficient rides. So, get a floor pump and use it weekly to get ride-ready wheels before every commute.
However, a mini pump can be a great idea as—the lighter the pump, the more comfortable it is to carry.
Chain Lube
Cycling can gift you a healthy life. When you are getting fit with your bike, why don't you think about your bike's health?
A good chain lubricant can give you a healthy bike. Shifting gets smoother if you use chain lube every week. Moreover, regular lubrication can help you prevent rusty chain-ring.
However, when choosing a lubricant, you have to consider the climate. Wet lube doesn't wash away with water. So, it is perfect for rainy weather. But, it catches dust and sand, which is not good for chain health.
Dry lube can be suitable for dusty roads. But, it can be washed away easily by water. Not applicable in the rainy season, but the assurance of a clean chain ring can be a great thing.
Cycling gloves
Handle pain and soreness is a common problems that every cyclist faces. Vibration while riding is not good for your hands. It hampers the blood circulation of your hands. That's why we face soreness and stress on our hands.
A nice pair of cycling gloves can help you to avoid all this hassle. Gloves usually are well padded so that your hands don't absorb the effect of vibration. Moreover, it can save your hands from wounding during an accident.
Before buying a pair of gloves, make sure it has enough padding. Check out if you can move your finger with ease while wearing it. You can consider some modern hand gloves which have lights and light-reflecting features for being seen at night.
Clothing
Bike clothing is nice to have, especially for long-distance rides. Spandex is the material that is generally used in cycling clothes. It is a hydrophilic and fast-drying fiber. So, the clothes absorb sweat quickly and give you a dry body while riding.
Anyways, if you have a low budget and can't afford a full lycra set, go for a cycling short first. It has well padding that gives you extra cushioning on the backside. Suitable for long-distance riders, it is also nice to have for the racers.
For mountain bikers, a waterproof jacket is an excellent idea. In the rain, it will cut raindrops, of course, keeping your body warm in the cold. While choosing a jacket, check out its breathability and IPX rating. Spending more on it will provide you with more breathable and water-resistant clothing.
Water Bottle and Bottle Holder
Dehydration can be deadly for riders while cycling. Especially for long-distance rides, hydration is essential for cyclists' health. So, a water bottle is a must for riding long.
For casual riding, a water bottle is ok. If you are planning to bang the mountain trail, then keep hydration packs with you. Consider a bigger one so that you can drink water every 20 minutes to get hydrated.
A bottle is a bottle! Nothing to consider here.
Well, not really! When you are spending thousands of dollars on a bike, get a bottle with high-quality plastic. Ignore harmful materials like Bisphenol and ensure the bottle maintains the food-grade standard.
Now, get a bottle cage, which holds the bottle with a tight grip.
Fenders/Mudguards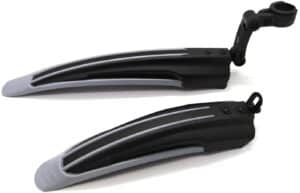 Mudguards and fenders keep you and your bike clean from dirt and mud. For long-distance or multi-terrain riders, it's a must-have bike accessory. It eases the maintenance of your bike and gives it a clean look.
However, there are many things to consider while getting mudguards or fenders. Firstly check whether your bike has eyelets for mounting them. If it has no eyelets, then consider the clip-on mudguards. Then, you must consider the wheel size of the bike.
Anyways, always keep your types of rides in mind while buying fenders. For example, if you are a tour guy or urban rider, try to get the full cover. On the other hand, half covers should be considered for mountain tracks.
Luggage
Luggage can be optional for you but is listed as must-have bike accessory for some riders.
A saddlebag is needed to carry spares and other essential things like your phone or wallet. For a day-long tour and journeys, bike-packing bags are perfect.
Consider your purpose of getting a bag and choose the size or type. For urban commuting, a compact saddle bag is ideal. Make sure it provides a pocket chamber for keeping money, wallet, or phone separate from spares. Backpacks are suitable for long journeys or tour as many kinds of stuff to carry there.
However, bags with strips is to use as no need to unmount them from the bike. But, you can sweat with that. If you sweat more get irritated, then it's OK to ignore them.
Anyway, if you need to carry lots of luggage, it's better to use a rear rack instead of taking it on your body.
Rear Rack
I am not listing it in must-have bike accessories but as essential for every urban rider or tour freak. Whether you need to move luggage or go shopping, a rear rack will change the game by reducing your effort to carry things.
That's not all. You can carry a kid (older than 5 years) on it as a passenger. But you will need a soft cushion to set on it for extra comfort.
Kid Carrier
Kid carrier or Baby seat offers your kids to commute with you. It's an excellent way to introduce them to cycling and the outdoor lifestyle. Moreover, commuting and chatting with your kid will be a sweet memory for you.
However, choosing baby seats is a little tricky. Firstly you have to decide where to mount it. It can be front or rear-mounted. Having a rear rack eases mounting where the front mounting needs thread on the handlebar to mount it. Otherwise, you have to try saddle mounting or rear frame mounting.
Anyways, for a commuter or tour bike, baby seats are perfect. But it's not suitable for mountain bikes, road bikes,s or any carbon bikes.
Safety assurance and comfort are most crucial for a baby seat. Suspension and adjustable footrest ensure comfort where reflectors and retention systems are a must for safety.
Basket
Bicycle baskets are necessary for carrying daily essentials. For casual riders, it helps to carry groceries, bags, or pets.
If you think that it only goes with the pink cruisers, then change your thought about baskets. It's a must-have bike accessory for every urban rider. If you are a school/ college student, a husband, or a housewife, it will make your life easy.
Now, I can't say what to consider before buying a basket. Because many kinds of baskets are out there. Give priority to your purpose and choose the best material with the perfect size.
Bike Computer
I won't suggest it as must-have bike accessories. Obviously, it's a luxury item but nice to have for some people. Every type of rider who rides for a long time will love to have this. Maybe it's for GPS navigation or a speedometer. It takes & breaks down daily cycling records and motivates you for cycling every day.
Though I am calling it a luxurious accessory, it comes in various price ranges. Now it's up to you what you want. For a speedometer, a 30/40 $ bike computer is perfect. It will only calculate your pace on the road and the distance you cover daily—a good option for casual riding or town exploration.
For serious cycling, you will demand more, and it will cost more too. It starts from 100$ goes up to 600$. A color screen and GPS navigation will be your basic needs then. However, some smart features will be added with them with the increment of the budget.
Anyways, when you are spending thousands of dollars, features like smartphone synchronization and heartbeat-checker will be fair to demand. Besides all this, you have to consider your type of riding and make sure the computer offers enough battery backup.
Phone Mount
Phone mounts can be an affordable idea against a bike computer.
Asking how?
Well, your smartphone must have a GPS system and a motion sensor. Some apps offer to convert your phone to a bike speedometer and navigator. Here comes the idea. When your phone is working as a bike computer, just mount it on the bike to be ready. Of course, it is not an excellent idea but not a lame thought too.
Anyway, it's just one benefit of a phone mount. If you love listening to music or podcast while commuting, it's more comfortable to mount the phone than keep it in your pocket.
So?
Get an easy-adjustable and durable phone mount to enjoy all those benefits.
Sunglass
It's our last pick for must-have bike accessories that cost really high.
However, sunglasses protect your eyes from harmful UV rays & small particles. It prevents dust and wind from irritating your eyes while riding. Additionally, it's a fashionable yet useful gear for professional cyclists.
Before buying a shade, consider the shape of your face and ensure it's fitting. Besides this, the frame material and design are crucial factors to consider. But, well retention and durability are a must for a cycling goggle.
Anyways, cycling gets challenging for those riders who have eye problems. Prescribed shades can be a smart solution for them.