Riding through a park, up a hill, or down a steep slope is exhilarating. It's one of the main reasons people love mountain bikes that can go on any terrain. But here's a catch. Different terrains require different gears to pedal smoother. 
If your grip shifter isn't turning as it should be, it can be hard to enjoy an uphill ride. Even worse, when going downhill, you can lose control of your bike if you're not in the proper gear. 
Luckily, a faulty grip shifter is relatively easy to fix if you know a few tricks. Let's take a look at why your grip shifter is acting up and how you can fix it.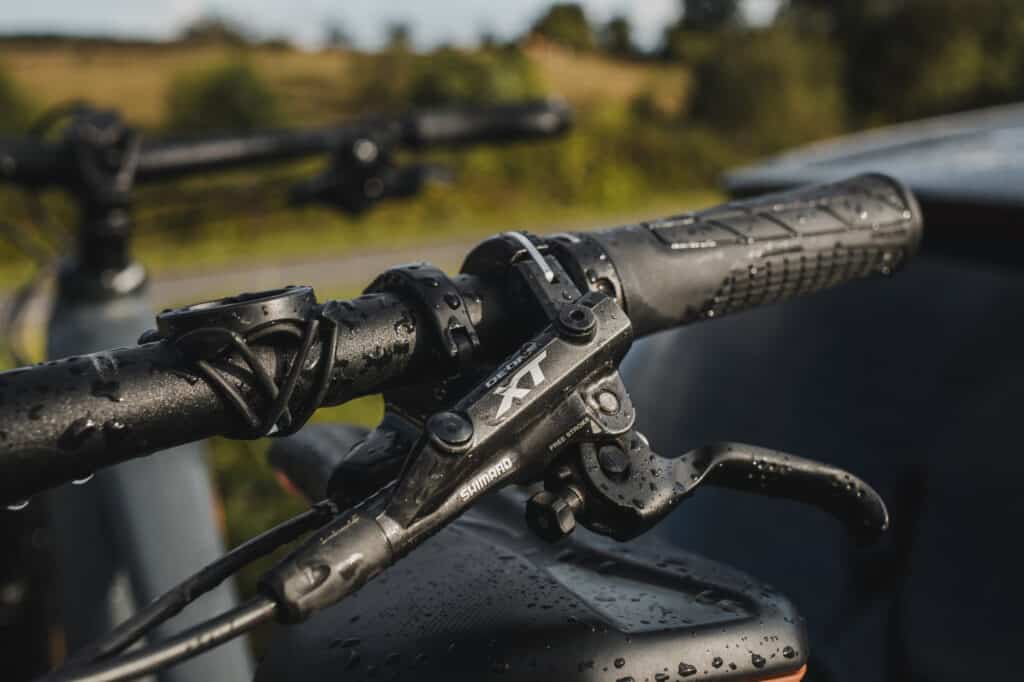 What Is a Bike Grip Shifter?
A bike grip shifter, also known as a twist shift, gives you control over your bike and your entire pedaling experience. It's an incredible invention that lets you adjust your riding conditions according to the type of terrain you're on. 
Using a grip shifter, you can shift your gears by twisting the handle to match the type of ground you're pedaling on or your direction. Grip shifters have marks indicating which gear you're currently using. 
Low gears are the best when climbing, while high gears give you more traction and resistance, making them ideal for descending. 
Check out my article on what gears to use on a flat road.
For example, when going uphill, you want to choose the lowest gear (also known as downshifting) for the easiest and smoothest riding experience. This gives you the least resistance since you're already going against gravity. 
Let's say you're going downhill and don't want your bike to spiral out of control. Crank your gear up to the highest one, also known as upshifting, and you'll get much more resistance and control as you move downhill. 
Why Is a Bike Grip Shifter Important?
A grip shifter allows you to control your ascent or descent while pedaling. It also gives you control over the resistance you're getting while cycling. 
It can make all the difference between a smooth riding experience and a frustrating, tiring one.
You can tailor your bike's performance to your environment by toggling between gears. It also makes bike rides much safer when going up or down a hill.  
Reasons Your Bike Grip Shifter Isn't Turning Smoothly
If you want to fix your grip shifter, you need to examine all your bike components and isolate the problem. It could be that the chains need attention or the derailleur isn't correctly aligned. Maybe something like the cassettes, chainrings, or chain is worn and needs replacement.
Let's go through the most important bike components to inspect when your grip shifter is hard to turn.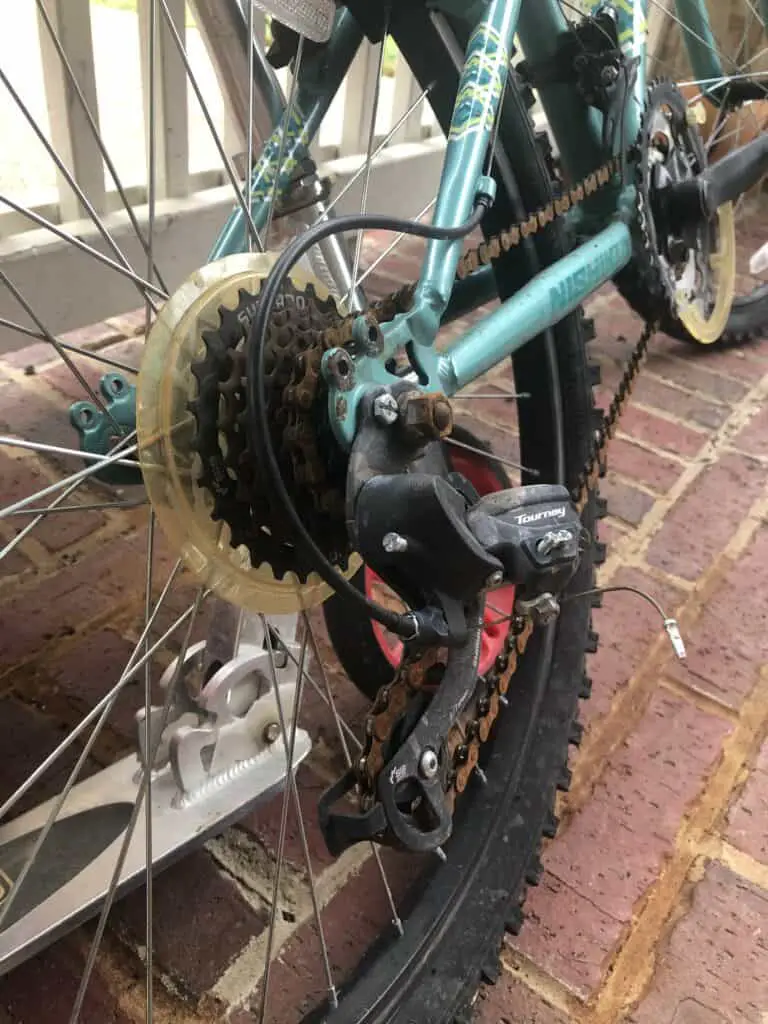 Derailleur Issues
One of the reasons your grip shifter is hard to turn could be your derailleur. 
Typically, there are two derailleurs in a bike: front and rear. The derailleurs help you shift gears while pedaling by moving the chain between sprockets. 
If you feel it's getting harder to shift gears, it could be that the derailleurs aren't doing their job correctly. Take a closer look. Is the derailleur bent in any place or broken? Maybe out of place? 
Ideally, you want the derailleur in a perpendicular position relative to the rear wheel and cassette. This will allow you to shift smoothly while pedaling. 
As for the front derailleur, you want to ensure it's at the correct height. Its outer cage should be as close to the big ring as possible and runs parallel to it. This is the ideal position and angle for most front derailleurs. 
Cable Problems
Another reason your grip shifter is hard to turn could be cable problems. Sometimes the brake cables aren't correctly placed or have fallen out of alignment. You can tell if this is true when you notice the bike going slower than usual. 
In addition to checking the position of the cables, take a look at their integrity. With time, brake cables stretch out and even tear a little. This could be one of the reasons your grip shifter isn't toggling between gears as smoothly as it should. 
Messy cables can have the same issue. With grime and dirt build-up, they tend to clog up the braking mechanism and, in turn, affect your grip shifter. 
Make sure the cables are strong, clean, and safely secured in place. If you need to replace them, do so as soon as possible. After that, give your grip shifter another go. 
Cable Housing
You also want to check the cable housing isn't a problem. 
When it's too long, it can result in unwanted friction with the cable or even snag onto something, affecting your ability to shift gears. 
When it's too short, it can affect the cable's tension, ultimately resulting in the same problem. 
When checking your cables, give the housing a look before you move on to the other causes of a struck grip shifter. 
Limit Screw
The limit screw is often the cause of grip shifter problems. Typically, limit screws are found next to the derailleur, and their job is to prevent the chain from moving into the spokes or frame of the bike. 
When too tightly wound, the chain can't move as freely as it should. When this happens, you often find it hard to reach the lowest gear of your bike. 
On the other hand, if the limit screw is too loose, it can affect the smallest gear on the cassette. Ultimately, the limit screw could be the reason behind a stubborn grip shifter.
How to Fix Your Stuck Grip Shifter
Here are a few things you may try to troubleshoot if you're having issues with your grip shifter. 
Inspect the Chains
Let's start with the most basic solution; checking your chains and gears. 
Chains Position 
First, examine the chains and make sure they're adequately positioned on the appropriate gear. The shifter could be stuck or malfunctioning because the chain isn't locked into the correct position. In other words, you can't shift a gear that isn't in place. 
If one of the chains is too loose or falling out of place, lodging it back correctly can fix your stuck grip shifter problem. 
Next, you want to inspect the derailleur to ensure it's mounted correctly. If it isn't, this could prevent the chain from shifting smoothly due to the lack of tension.
Chain Lubrication and Cleanliness
Inspect the chains for kinks, which can result in tangled or clogged chains, ultimately affecting your bike's grip shifter. It's easy to unkink a chain, but it's essential to clean your bike chains to avoid surprises while pedaling regularly.
Make sure your bike chains aren't too worn out. It's normal for bike components to experience a bit of wear and tear, but you should always keep an eye on vital components like the chains. This can prolong your cassettes and chainrings' lifespan and make your shifting smoother. 
Proper chain lubrication is crucial when you're experiencing a grip shifter problem. Dry chains often make a squeaky sound when pedaling and can make it harder to shift gears. Try to clean and lubricate your chains. This could solve your grip shifter issue. 
If your gears and the chains linked to them seem okay, it's time to move on to the next possible problem: the grip shifter itself. 
Check Your Grip Shifter
The reason behind a stuck grip shifter could simply be an issue with the grip shifter itself. It could be that the grip shifter needs cleaning, is worn out, or needs to be replaced.
Cleaning Your Grip Shifter
First, clean the grip shifter. You'll need to remove the handlebars by taking out the end caps on either side. After that, you can clean the grip shifter and remove any grime or dirt that has built up. 
Make sure to use a soft cotton cloth, clean the entire surface, and apply a minimal amount of pressure to the grip shifter. 
Lubrication
If that doesn't work, you might need to add some lubricant to the grip shifter. You'll probably need to cut the grip shifter cable using a cable cutter to remove the grip shifter. It's a smart idea to have a bike repair kit handy for things like this. 
After removing the grip shifter, make sure every part of it is thoroughly cleaned before applying any kind of lube. You might need to use a degreaser if there's a significant amount of gunk or grease. 
There are several kinds of lubricants to choose from, but no matter which one you choose, apply a minimal amount. Don't go overboard, or your grip shifter won't work due to a lack of friction. 
Once you've lubricated the grip shifter, replace the cable you cut, feeding it into the housing. Give your bike a go and try shifting gears. If it's still no use, you might need to get a new grip shifter altogether.
Replace Your Cable Housing
Sometimes the problem is with the cable housing itself, not the grip shifter. You might need to replace it. 
You'll have to remove the old cable and disassemble the grip shifter when replacing the housing. After that, reassemble the grip shifter and add a new cable just like you did in the previous step.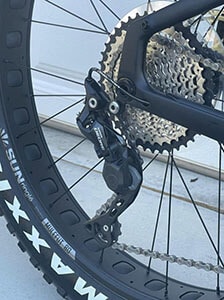 Clean the Derailleur
The last thing you can try if your grip shifter isn't still turning smoothly is to clean and lubricate your derailleur. You can also check the cable adjusters around the derailleur.
Cleaning and Lubrication
Since the derailleur is in charge of your bike chain's movement as you go from one gear to another, it can affect your grip shifter's ability to work. 
For example, if there's any debris or botches of grease on the derailleur, it could get stuck or not be able to move freely, resulting in gear shift problems. 
Make sure to clean it regularly using a soft cotton cloth. 
Another reason your derailleur might be acting up is too much friction or a lack of lubrication. When this happens, it becomes harder to shift gears because the chain movements are hindered by friction. 
On the other hand, if there's too much lubrication, the derailleur loses its grip on the chains and can't move them to shift gears. 
That's why it's important to lubricate the derailleur regularly but focus on adding just the right amount. Don't go overboard, or it'll hurt your grip shifter's ability to work. Instead, wipe any excess lubricant with a soft cotton cloth. 
Tip: Keep a bottle of chain lube handy for regularly maintaining your bike components. It's one of the top 20 accessories for bikes you should have. 
Replace the Derailleur
If push comes to shove, you might need to replace your derailleur altogether. Inspect it thoroughly, and if you discover any tears, worn components, or damage, you're better off replacing it. 
In addition to hindering your grip shifter performance, riding with a damaged derailleur can be quite dangerous. 
Check the Cable Adjusters
While inspecting the derailleurs, you should also check out the cable adjusters. 
Cable adjusters are tiny nuts or barrels that are found around cables. To find them, you need to locate the cables that lead to the derailleurs. On either side, you'll find the cable adjusters. Each cable has two of them: one leading to the derailleur and another to the handlebars.  
Make sure the nuts or barrels aren't too loose. This could be affecting the derailleurs, which in turn, prevents your grip shifter from turning gears as it should. 
Final Thoughts
It can be frustrating when your grip shifter is acting up. But if there are a lot of causes, then there are also a bunch of solutions you can try before going to the bike mechanic.
Make sure your bike components are correctly aligned, the chain and grip shifter is clean, and the cable tension is just right. Those are good places to start, and it'll get the job done more often than not. 
Try these quick fixes, and before you know it, you'll be pedaling smoothly into the sunset!