Thinking of buying a hybrid bike? If you don't like the price tags that come with it, follow us on how to convert a mountain bike to a hybrid instead.
The best part? You don't need a fancy engineering degree to get a solid hybrid bike that suits your needs. If you have a little bit of extra time and can do some preparation work, then follow our five steps to convert your mountain bike to a hybrid.
Let's start with the main differences between the two.
Mountain Bikes vs. Hybrid Bikes: What's the Difference? 
To the untrained eye, mountain bikes and hybrids don't seem much different. 
But when you use a bike in an environment it wasn't made for, you can cause early damage to your gear and your riding experience is not the best.
Major differences between mountain and hybrid bikes include:
Frame – hybrid bike frames are much closer to a road bike than a mountain bike because they're not supposed to be used in extreme environments;
Suspension – hybrids are used on paved roads most of the time, so there's no need for suspension like with mountain bikes;
Brakes – most mountain bikes use disc brakes to increase safety and provide stronger stopping power. Hybrids generally use rim brakes;
Tires – mountain bike tires need to provide traction on any terrain, whether wet, dry, or a combination of the two, so they have bigger, fatter tires. Hybrids have thinner and smoother tires, as hybrids are meant to be used on paved roads.
Once you add everything up, you can see that MTBs are not the best choice for general riding, like commuting to work or going on a trip with fellow bikers. Hybrids are designed for "all-purpose" biking and provide a smoother and more efficient pedaling experience.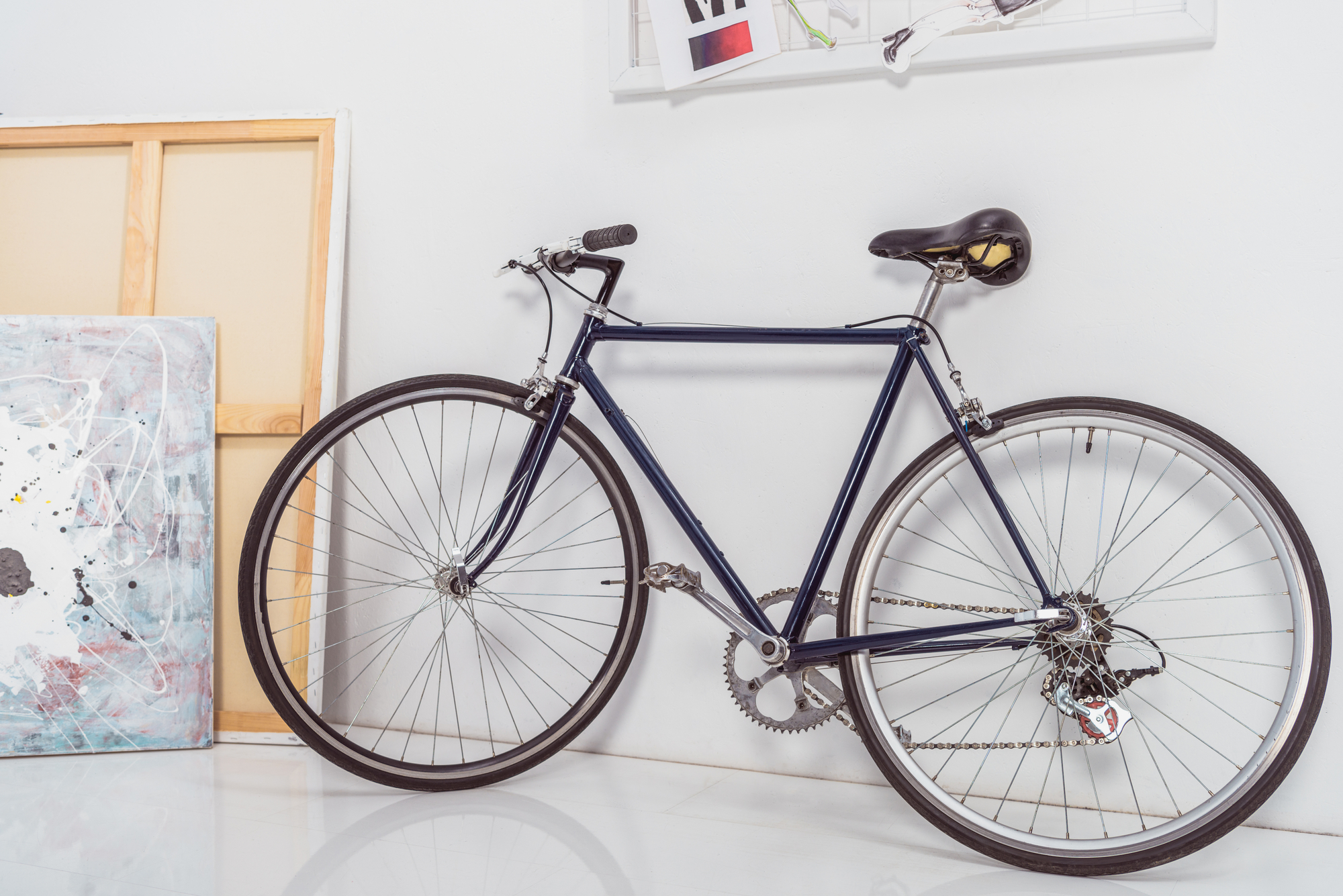 Converting an MTB To a Hybrid: Most Efficient and Easy Way 
Converting a mountain bike to a hybrid isn't as difficult as it seems at first, and it can save you a lot of money in the process. 
The most efficient and easy way to do it is to change the wheels and tires of the bike. That's the bare minimum you can do, but there are lots of other tricks that can help you build a great hybrid bike.
Must-do Steps to Get a Quality DIY Hybrid Bike
To successfully take your mountain bike to a hybrid, follow these 6 easy steps:
1. Change the Wheels
Mountain bike tires are thick and bulky, which is unnecessary for a hybrid bike because it makes pedaling harder. 
Sure, who doesn't want to get a workout on their way to work? Using a mountain bike on a paved road is a surefire way to exhaust yourself.
Instead, you should choose wheels that don't have a rugged thread and provide less traction when riding the bike on the road.
To change the wheel, you'll need to get more familiar with essential tools like an Allen wrench and an adjustable wrench. It may also be possible to keep the wheels as they are and change the tires, but that depends on whether you can find tires to match the wheels.
2. Change the Tires
Hybrid bikes need sleek and narrow wheels to provide ideal riding experiences on the pavement. Ideally, it would be best to look for 1.5-inch tires, which offer significantly less grip than mountain bikes but a much smoother experience.
You may be able to find tires that fit your current mountain bike wheels, but it will take a bit of searching. If you don't, then you may have to change the wheels of your bike after all. 
3. Adjust the Tire Pressure
After installing your new tires, it's time to pump up the pressure to allow them to roll smoothly on the ground. You need lower pressure on MTB tires as you need more grip on the ground. Hybrid bike don't need that kind on grip, then need to provide a smoother ride.
The pressure should be between 40-50 PSI, but it can vary from tire to tire. Check the product's specifications to get the maximum pressure possible.
4. Add a Higher Gear Ratio
The wrong gear makes for a poor riding experience. 
Mountain bikes have a low gear ratio to allow riders to go through rougher terrain. But this is a huge nuisance when biking on pavement, so it has to go.
Switch to a high gear ratio with two chainrings for optimal biking. Most mountain bikes only have one, and it's also possible to have three chainrings, but unfortunately, neither is suitable for your commute.
5. Add Lights and Reflectors
If you've ever ridden a bike on your way to work, then you know how crucial lights and reflectors are for a safe trip.
Most of these accessories are designed to be easily attached to the front and back of the bike, but it could depend on the specific lights and reflectors you choose.
Fair warning, some of these add-ons can be an investment, but if you're planning to ride your bike at night, it's well worth the money.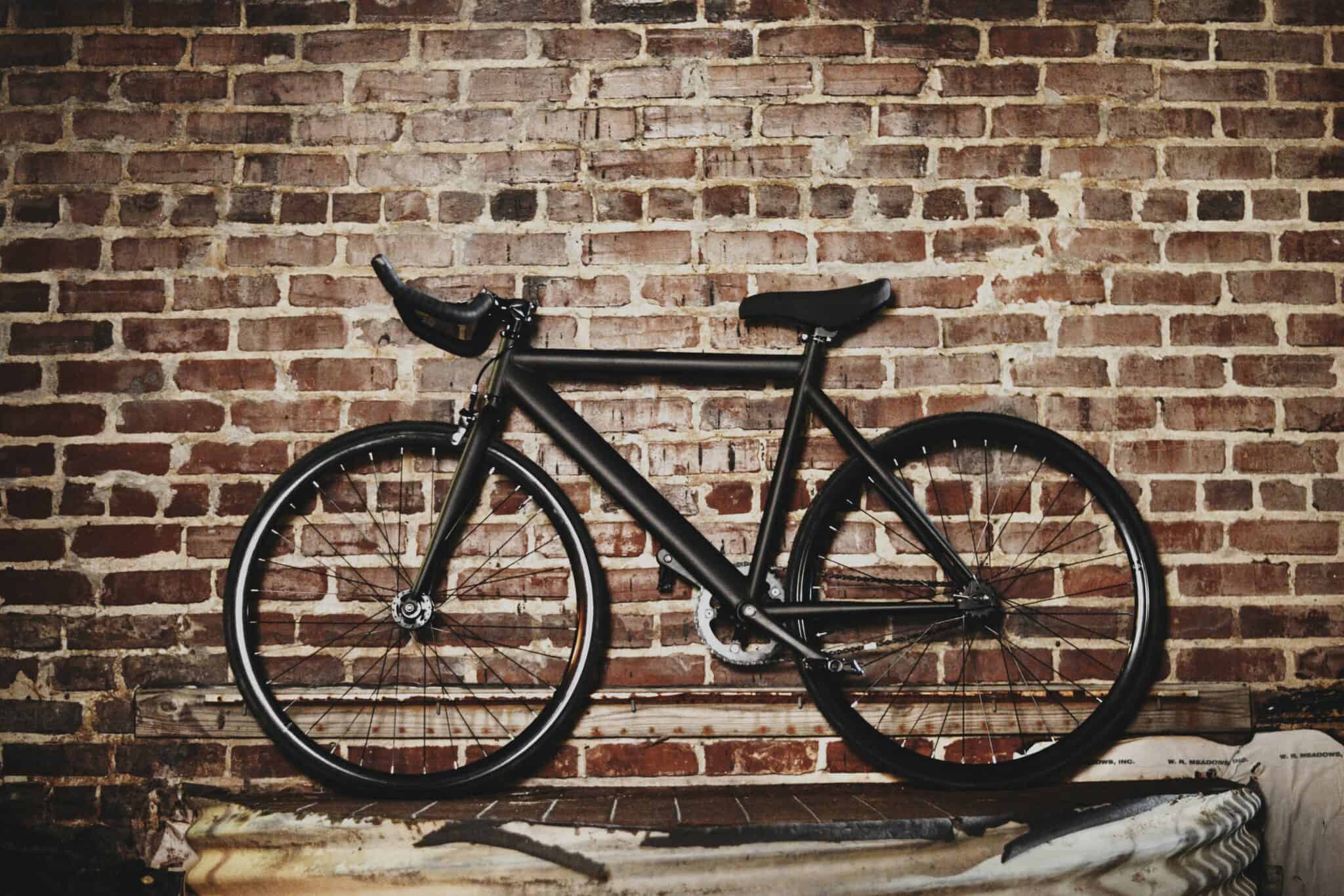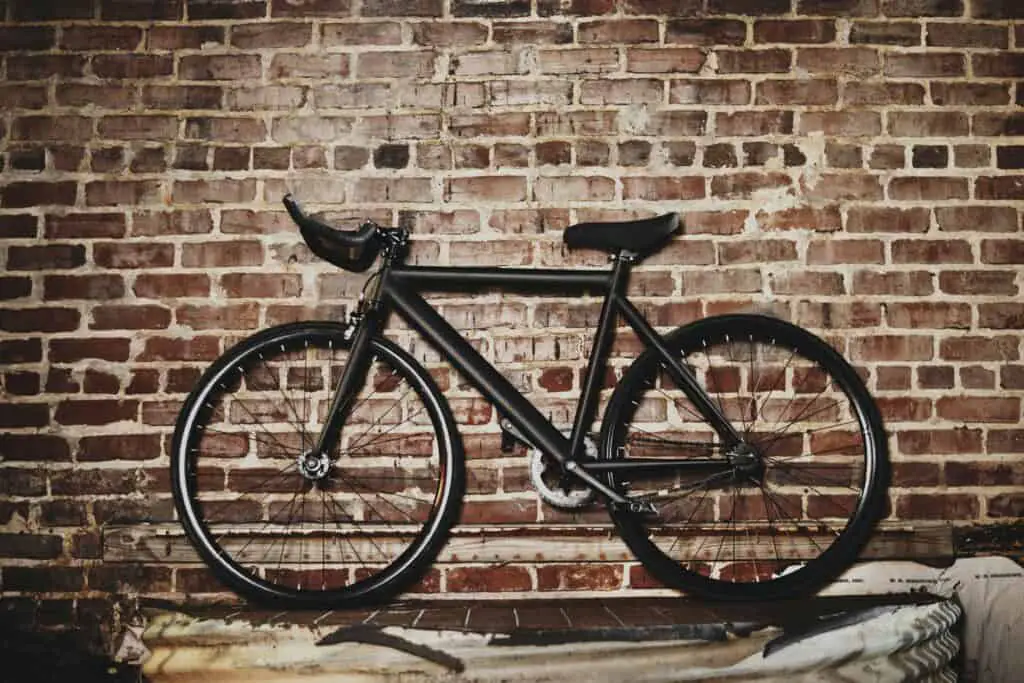 Optional Steps: Make Your Hybrid More Comfortable
The five steps listed above are the minimum needed to convert a mountain bike into a hybrid. let's look at some further steps to make your new hybrid better; these tips are designed to support your riding experience and make it a lot more enjoyable:
6. Change the Fork
The suspension fork on mountain bikes can make peddling more difficult and drain all your energy when riding on a paved road. The hydraulics in the suspension fork will absorb some energy when you try to pedal harder. That is just wasting energy on a paved road where the surface is smooth. 
Swap your suspension fork for a new rigid steel one to make pedaling easier and smoother on your hybrid.
7. Adjust Saddle Position
Usually, the right saddle position is based on the biker's personal preference. But with hybrid bikes, the saddle is usually placed in a way that allows the cranks to lie parallel to the ground. 
This then allows your knees to fall directly over the pedals, which increases efficiency and speed when riding. You may need to play with the saddle position a bit to find one that provides the highest level of comfort for you.
8. Add Fenders and Mud Flaps
Fenders and mud flaps help keep mud and water from splashing all over your bike, particularly the back and front wheels, which can then propel these elements further.
While these don't influence your riding experience per se, they are essential add-ons for a hybrid bike. Nobody wants to get all messy when they're commuting to work.
9. Add a Mirror
Mirrors are an essential safety measure when riding your bike next to passenger vehicles.
Mountain bikes don't have to worry about cars on the road, so chances are you'll need to purchase two bike mirrors and attach one to each side of the handlebar.
5. Add Water Bottle Cages
Water bottle cages increase the efficiency of your bike. The more water you're able to carry, the better.
There are lots of different designs out there, but you should choose one that suits your needs.
10. Change the Pedals
MTB pedals require you to put a lot more force on them when riding the bike through rough terrain. If you use them on a hybrid bike, you're making each ride a more intense workout than it needs to be.
Hybrid pedals are suitable for long-distance rides, and they secure the shoe to provide a higher control of your pedal strokes.
11. Choose the Right Handlebars
Handlebars support your riding experience by allowing you to hold on properly and perform specific motions while riding. The wrong handlebars limit the actions you can make with your new hybrid.
Most mountain bikes come with straight handlebars to make it easier to lift the front of the bike when necessary. But this motion is less important when riding on pavement.
By comparison, drop handlebars are much more efficient. They provide extra comfort, which is ideal for long rides and puts you in a better aerodynamic position.
Frequently Asked Questions
Is it possible to convert an MTB to a hybrid?
Yes, and it's a lot easier than you think. You only need a few essential modifications regarding the wheels, tires, and gear to get a high-quality hybrid bike.
With a few extra add-ons, you can even get a hybrid that can compete with expensive models in terms of performance and quality.
What are the differences between a mountain bike and hybrid tires? 

Mountain bike tires are usually wider, with knobby treads to provide superior traction on off-road surfaces like dirt, mud, and rock. In contrast, hybrid tires have a smoother tread designed for better handling on paved surfaces like roads and sidewalks.
Mountain bike tires also tend to be more durable than hybrid tires because of their thicker construction, making them heavier. Hybrid tires are generally lighter and faster than mountain bike tires, making them a better option for city riding or long-distance touring.
To wrap up
The cost of a hybrid bike can range from a few hundred to a few thousand dollars, but more quality ones are an investment.
Still, you don't need to break the bank if you already have a mountain bike you can convert. Use the hacks in this article, and you can successfully convert your MTB to a great hybrid bike to ride on your way to work or for long-distance travels.