Hey roadies, as you have searched for the best road bikes under 1000 $, you may have taken advice from many people and read many blogs. But one's preference may not be the best choice for you.
So, what to do?
Don't worry! We are here.
We have picked the 15 best road bikes under 1000, being unbiased and avoiding our personal preferences.
Everyone's demand and best quality are the only thighs we have considered. After proper research, we come up with a list that contains some superb road bikes under 1000.
What is your budget doesn't matter; you should keep your needs on priority. No one knows "what you want" better than you.
So pick your one by yourself. We are here to guide you on how to choose & describe which one is the best for you and why.
Best road bikes under 1000(USD): Our Picks
We have brought a ton of options to fulfill everyone's needs. Pick the best one for you now!
1. Trek Domane AL2: Best Entry Level Bike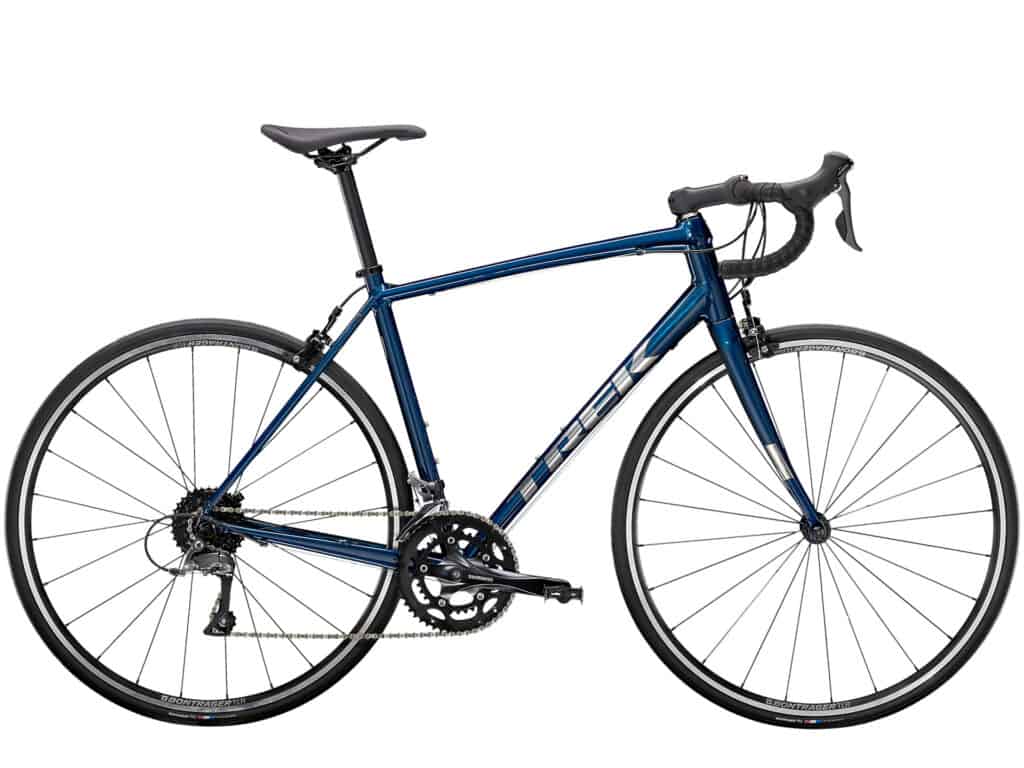 Highlights:
Aluminum frame with a carbon fork
Comfortable frame geometry
Shimano Sora 16 speed drivetrain with STI brake lever shifter
Weigh around 22.5 pounds
Like any other big bike company, Trek introduces Domane Al 2 as a comfortable entry-level road bike at an affordable price.
Combining a lightweight aluminum frame and the Shimano sora component makes it the right choice for beginners and enthusiasts.
The comfortable saddle and the Bontrager drop-bar handle makes it perfect for endurance, commuting, group-ride, or bike-packing.
The steadier braking system ensures a hassle-free, safe ride. This ready to ride road-bike comes with a tubeless ready-wheel that gives ease on assembly.
Overall saying, this bike is an excellent example of a balanced road bike because of its comfortable geometry with quality Shimano components.
Pros:
Tubeless ready-wheel
Carbon Fork
Cons:
2. Specialized Allez: All-round Performance With the Value of Price
Highlights:
Aluminum E5 frame with a carbon fork
Shimano Claris 8 speed drivetrain
Affordable Price
Weigh around 21.3 pounds
Another big name is Specialized famous for manufacturing all types of bikes. Allez is a bike that comes with race-friendly geometry, a premium frame, and excellent components.
That makes this bike versatile and comfortable. Whether it is a group ride or commuting, this cheap roadie will never disappoint you!
The carbon fork protects you from jerking on the handle. Relaxed geometry means you can ride the bike for a long time with ease. 8-speed Claris gearing helps to ride continuously without any stoppage.
Tektro rim brakes are not efficient as disc brakes but perform well. Lastly saying, this is an excellent option for an entry-level road bike at an affordable price range.
Pros:
Value of price
High-quality aluminum frame
Lightweight
Cons:
3. Giant Contend 3: Cheapest We Recommend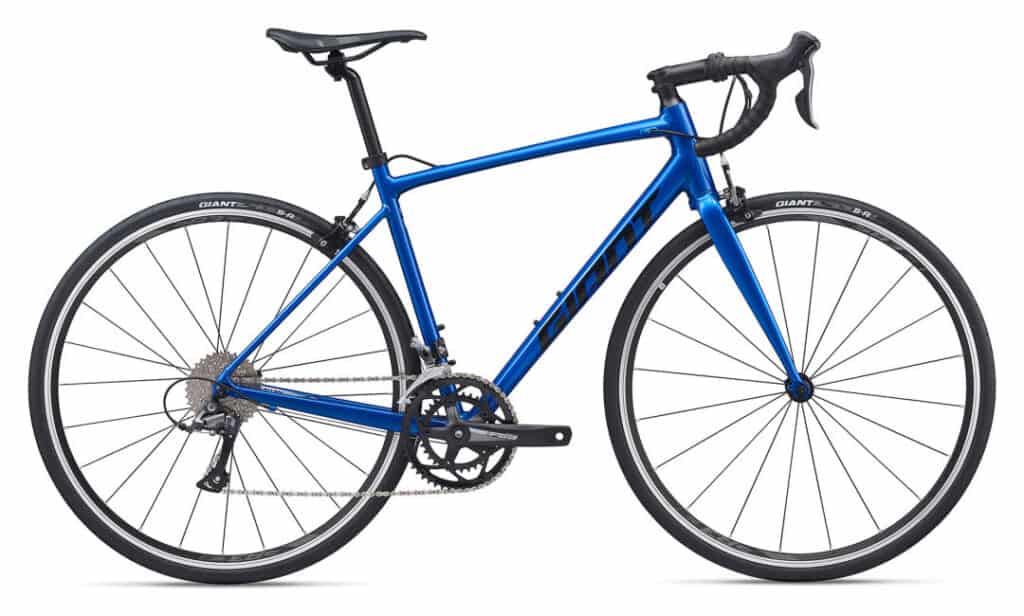 Highlights:
Aluminum Aluxx frame and fork
Shimano Claris 8 speed drivetrain
Tektro Rim Brakes
Weigh around 22.7 pounds
Giant contend 3 is an impressive package at a low price. It has comfortable geometry more than an aggressive racing position.
That is what you will like on a cheap bike. It comes with sizes XS to Xl that ensure fit for any rider.
Shimano Claris 8 speed drivetrain and shifter gives excellent acceleration and an enjoyable riding experience.
Additionally, 28c wide tire offers a safer ride both on-road and offroad. This bike is a perfect choice for endurance, commuting, and travel.
Giant provides a homemade saddle and handlebar with it that is relatively comfortable. Tektro rim brakes are not so good but perform well according to their price.
If you are looking for a cheap bike and want to get it as you pay, then go for it!
Pros:
High-quality aluminum frame
Wider tire
Cons:
4. Fuji Bike Jari 2.3: Best Gravel Road Bike
Highlights:
A6 Aluminum Frame
Shimano Sora 18-speed drivetrain
Adventure Geometry
Weigh around 28.6 pounds
If you are looking for a bike that can go through the gravel road, then it is for you. Jari 2.3 from Fujibikes offers excellent performance, utility, and versatility.
Heavy but strong A6 aluminum frame designed to take on gravel race, bike-packing, or whatever you want.
Riders can go offroad with excellent control for 37c wide tires and mechanical disc brakes combination. The 18-speed Shimano Sora components mean great shifting and smooth-riding experiences.
Keeping all ages of riders in mind, Fuji-bike offers six different sizes for this bike. You will be happy to find a hidden fender mount and water bottle mount on this bike.
Pros:
Disc Brakes
Internal cable routing and hidden fender mount
Cons:
5. Salsa Journeyman 700: Best Adventure bike
Highlights:
Aluminum 6061 tubing
Shimano Claris 9 speed drivetrain
700x38c wide tire
Weigh around 24 pounds
Gorgeous AF! It is the first word you will utter after seeing this bike. Keep aside color or design. The Journeyman has a unique design according to its name.
The aluminum 6061 drop-bar geometry makes it ready for an adventurous journey.
This WTB comes with 38c wide tires, a stiff fork, and mechanical disc brakes that offer you to go on-road, offroad, gravel, and any kind of terrain you want.
Shimano Claris can seem like a low-end component, but the FSA Tempo crankset and 9-speed cassette make it forgivable.
You can go for a carefree, wild ride as it has internal cable routing, fender mount, and water bottle mount.
Pros:
Wider tires
Adventure geometry with an excellent quality frame
Disc Brakes
Cons:
6. KHS-Flite 150: Affordable Commuter Bike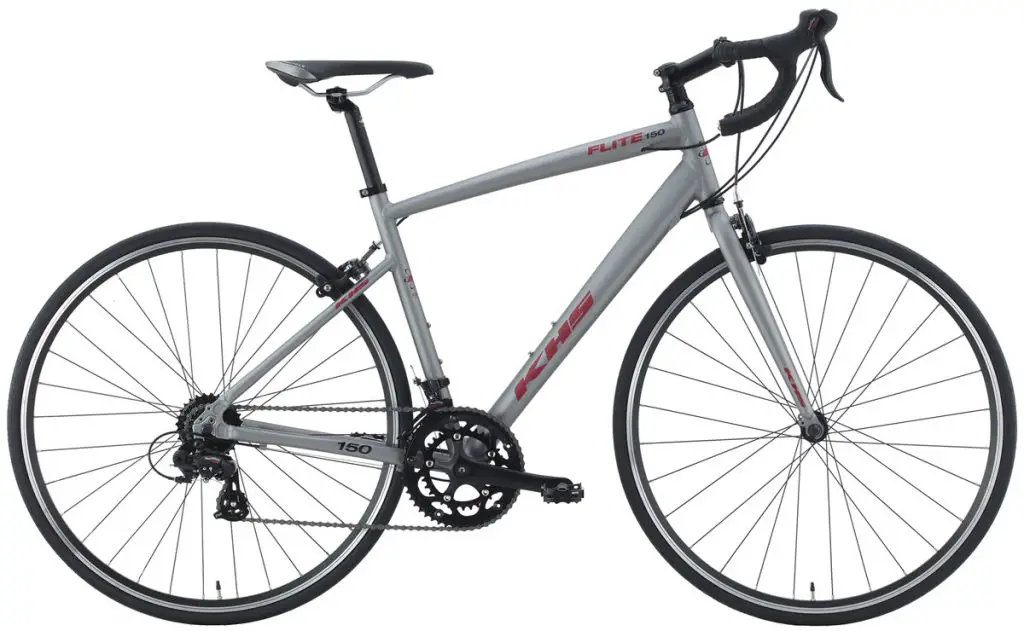 Highlights:
Aluminum 6061 frame
Shimano STI brake lever shifter
Low price
Weigh around 23.8 pounds
Another cheap bike like Giant Contend 3, KHS flite 150 are designed for endurance and commuting.
Aerodynamic frame geometry offers a comfortable upright position. The aluminum 6061 frame has great tubing on this bike.
Riders can shift and stop quickly with the Shimano Integrated Brake lever system. CNS sidewall rims are a good thing at this price point.
This commuter has 28c wide tires which means you can also go light offroad with the bike. But it is safer to ride on-road with the bike.
In conclusion, this bike can be a great deal for beginners who want to learn how to ride or explore local roads.
Pros:
Shimano brake shifter combo
Enough tire clearance for rim brakes
Cons:
The upright position is not preferable for riders who want an aggressive racing position.
7. Liv Avail1: Best Women-Specific Bike
Highlights:
ALUXX Aluminium Frame
Shimano Sora 22-speed drivetrain
Onedrive and Powercore technologies
Weigh around 19.5 pounds
Another surprise from Giant! Liv Avail 1 comes with a comfortable upright position that favors women's physiques.
Like Giant Contend 3, this bike also has an Aluminum AlUXX frame. OneDrive technology means no compromising compliance, only excellent stiffness of the frameset.
Suitable for endurance, group ride, and adventure, cyclists can go a little offroad as 28c wide tires come with it.
Shimano Sora 22 speed provides a great uphill riding experience. Rim brakes from Tektro work very well, but you can expect disc brakes at this price. This roadie comes in 8 different sizes that fit any rider.
Pros:
Lightweight
22-speed drivetrain
Comfortable Geometry
Cons:
8. Schwinn Fastback 2: Adult Performance Bike
Highlights:
Aluminum frame with a carbon fork
Shimano Sora 18 speed drivetrain
FSA Vero compact crank
Weigh around 21.7 pounds
Schwinn is a famous brand among cyclists. Recently it is known for manufacturing high-quality bikes at affordable prices.
Fastback 2 is an example of those bikes. It is as fast as its name and comfortable as well. Riders can experience a smoother, lighter, and longer ride on this bike.
A strong aluminum frame and stiff carbon fork are the best pair in a road bike.
You will be happy with Shimano Sora's optimal gearing system. Schwinn offers Alex's double-well rims and homemade 700x25c tires.
That is not top-notch but OK at this price. The saddle is not that much well. You have to swap it up after buying the bike.
Pros:
Balance of performance and speed
Lightweight and smooth ride
Cons:
9. Vitus Zenium Disk: Best All-round Bike
Highlights:
Lightweight UD carbon frame and fork
Tektro Spyre disc Brake
Shimano Tiagra components
Weigh around 20.4 pounds
All in one! This carbon bike has a top-class groupset, Tektro Spyre disc brake,28c tire, and many more.
An example of a balance of performance and comfort, this bike hit the top of allrounder bikes.
Compact geometry and downright saddle give a blend of speed and control. Handling is quite good on this bike.28c tire and mechanical disc brakes allow the riders to go light offroad.
Shimano's Tiagra components put a little weight on the bike, but it's all right as the shifting power is excellent.
Overall saying if you want an all-in-one entry-level bike, then go for it. It will not disappoint you.
Pros:
The carbon frame and fork
Internal cable routing
Disc brakes
Cons:
10. Diamondback Century 1: Great Endurance and Performance Bike
Highlights:
Aerodynamic 7005 aluminum frame
Shimano Claris 18-speed groupset
Tektro Lyra mechanical disc brakes
Weigh around 22 pounds
Diamondback Century 1 is a stylish bike, indeed! The aerodynamic design and shiny color give it an eye-catchy look.
Besides its gorgeous appearance, it has some exciting features too. Take the frame as an example. The aluminum 7005 frame is a balance of durability and strength.
The enhanced performance geometry puts you in a little upright position that makes the ride comfortable.
Equipped with an 18-speed Shimano Claris drivetrain and FSA Tempo Compact crankset, this bike offers a smooth and carefree ride.
Mechanical disc brakes from Tektro are the exact thing that you want in a 700$ bike. We recommend it because it combines performance and comfort.
Pros:
Strong and durable frame
Disc brakes
Cons:
11. Tommaso Imola: Best Endurance Bike
Highlights:
Aluminum 6061 SLA Compact Road Frame
Shimano Claris 24-speed groupset
Comfortable compact geometry
Weigh around 23.8 pounds
Tomasso promised to manufacture high-quality bikes at minimum prices. You can't argue after seeing the Imola model with a high-end component under 1000$. This bike holds the top position of endurance bike on our list. Why doesn't it? Look at its aerodynamic compact frame and durable steel fork! Riders can ride for a long time on this bike. This geometry confirms an upright position that is super comfortable. Decent components from Shimano make it a perfect package. You can go for a long ride, group tour, or bike-packing without any tension. WTB volt saddle and TRS Seatpost ensure sitting comfort.
Pros:
Lightweight and durable frame and fork
24-speed drivetrain
Cons:
12. Schwinn Phocus 1600: Great Fitness Bike
Highlights:
Aluminum frame with a carbon fork
Shimano STI 16 speed
Fitness geometry
Weigh around 29 pounds
Schwinn hits once again on our list. This time we introduce the Phocus 1600 that is suitable for fitness freak people.
If you want to lose weight or exercise, this bike is for you. Featured with reliable Aluminium 6061 frame and carbon fork give long time durability and control.
Fitness-friendly frame geometry allows you to ride for a long time on the bike. Coming to the groupset, Shimano Claris is suitable for beginners but a little heavy.
STI brakes lever will impress you as shifting gets smooth and braking gets more comfortable with it.
Pros:
Integrated brake lever shifter
Carbon fork
Cons:
13. Tommaso Monza: Best Versatile Bike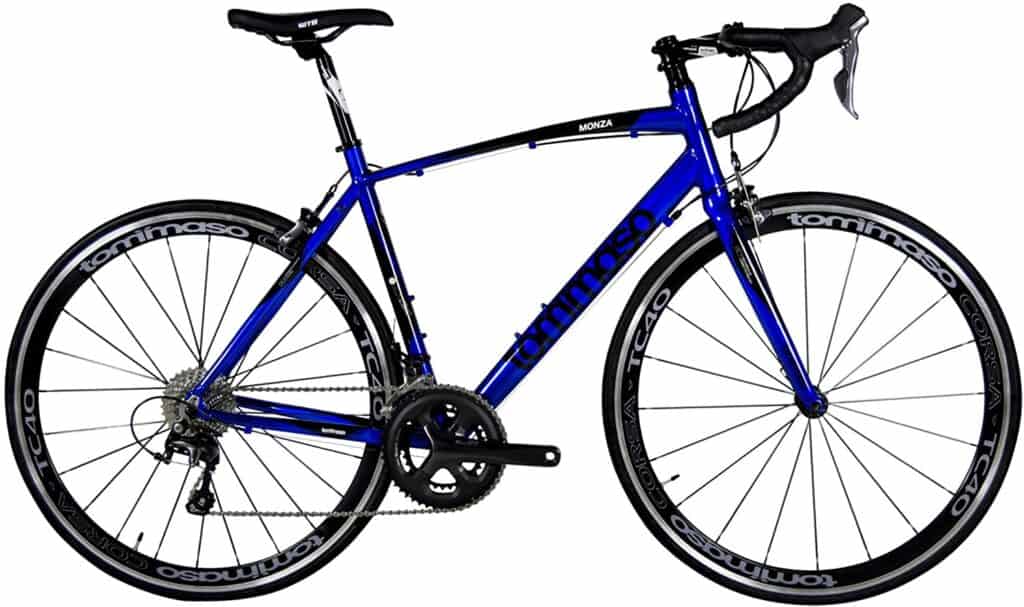 Highlights:
Aluminum frame
20-speed drivetrain
Shimano Tiagra Groupset
Weigh around 21.6 pounds
Tommaso is not a big brand. But it is gaining popularity among bikers. And why not? This brand is manufacturing some fantastic bikes at affordable prices.
Tommaso Monza is one of them. It can beat 2 or 3 times more expensive big brands' bikes with its exciting features.
With a high-end groupset like Tiagra, it becomes the best versatile entry-level bike ever. You will enjoy a comfortable and lightweight ride with the 6061 aluminum frame.
Shimano's Tiagra 4700 shifter offers great shifting power, where the house-brand Tommaso wheelset and tires give a decent performance.
Pros:
Great Value
Comfortable Geometry
Cons:
14. SAVA Warwind 3.0: Best Carbon Bike
Highlights:
Carbon T800  frame, fork, and seat-post
Shimano Sora 18-speed drivetrain
Aerodynamic style
Weigh around 21 pounds
Look so fancy! SAVA Warwind 3 is an entry-level road racing bicycle. SAVADECK is a Chinese cycle manufacturing company.
They offer to deliver their bike directly from their factory floor to your house. Let's get back to the Warwind 3.
This carbon bike has an aerodynamic frame geometry. That means you will get a comfortable but speedy riding experience.
SAVA offers an entry-level Shimano Sora groupset to make it affordable. Well, with a lightweight and stiff TORAY T800 carbon fiber frame, you are getting a carbon fork and seat-post too.
However, Warwind 3 will allow you to participate in the triathlon, duathlon, or local rides.
Moreover, it will give you a long time performance for its frame. Maybe you would have to upgrade some parts of it.
If you don't want to do so, spend a little more to buy other models with high-end components like SAVA HERD 6.0 and SAVA Phantom 2.
Pros:
Lightweight carbon frame
Internal cable routing
Cons:
15. Cannondale CAAD Optimo Sora: Best for racing
Highlights:
Aluminum frame with a carbon fork
Shimano Sora 18-speed drivetrain
Race-inspired style
Weigh around 21.3 pounds
Another race-worthy bicycle Cannondale CAAD Optimo Sora is not like other bikes on our list. It prior race friendly geometry than comfortable endurance geometry.
The long top tube allows you to sit in an aggressive race-ready position. Compared with its high-end siblings, it is much cheaper and an excellent option for beginners and enthusiasts.
SmartForm C2 Alloy frame and carbon fork decrease total weight and offer a lightweight and speedy ride. Shimano Sora 9-speed cassette is OK at its price.
This time rim brakes will not disappoint you as Promax RC-452 works very well.
That's not all; this bike has the versatility of performing anywhere. You can commute or do some exercise with it.
Pros:
Aggressive fit
High-performance rim brakes
9-speed cassette
Cons:
Some riders can prefer a comfortable upright position
A perfect entry-level bike
Honestly, you can't get a professional multisports racing bicycle at this price point. If you are a hardcore racer, this post is not for you. 1000$ is a healthy budget to buy an entry-level road bike. But what does it mean by a "perfect entry-level bike"?
Lightweight & durable frame
Carbon fork
Best groupset
Perfect positioning
Good Tire & Brakes
Affordable price
So, let's see what you will get in 1000$
Lightweight vs. Durability
You can get both if you want a balanced bike by spending around 1000$ or a little up. But if your budget is not around 1000$ (can be 600-800), you have to choose one.
If you want to get both and are ready to spend 1000 or more, choose carbon frame alloy. Carbon is lighter than aluminum, steel, or titanium. Moreover, it is as durable as steel. Carbon has a low corrosion and fatigue rate.
If you have a bit low budget, then go for aluminum. Aluminum is lightweight & corrosion resistant, which is perfect for a road bike. Whether it's a short-distance or long-distance ride, the aluminum frame always offers a lightweight & comfortable experience.
If durability is above anything for you, I suggest not choosing aluminum. Do you want to give your frame an 8-10 year long life? Then go for steel frames.
Steel is king! Your bike frame can survive fatigue for a long time if it is made of steel.
But you can't get too much speed on steel bikes. I demotivate you to buy steel bikes if you are a long-distance rider.
It's not comfortable to ride on a heavy bike for distance riding. But if you are a short-distance everyday rider, steel can be a good option.
Groupset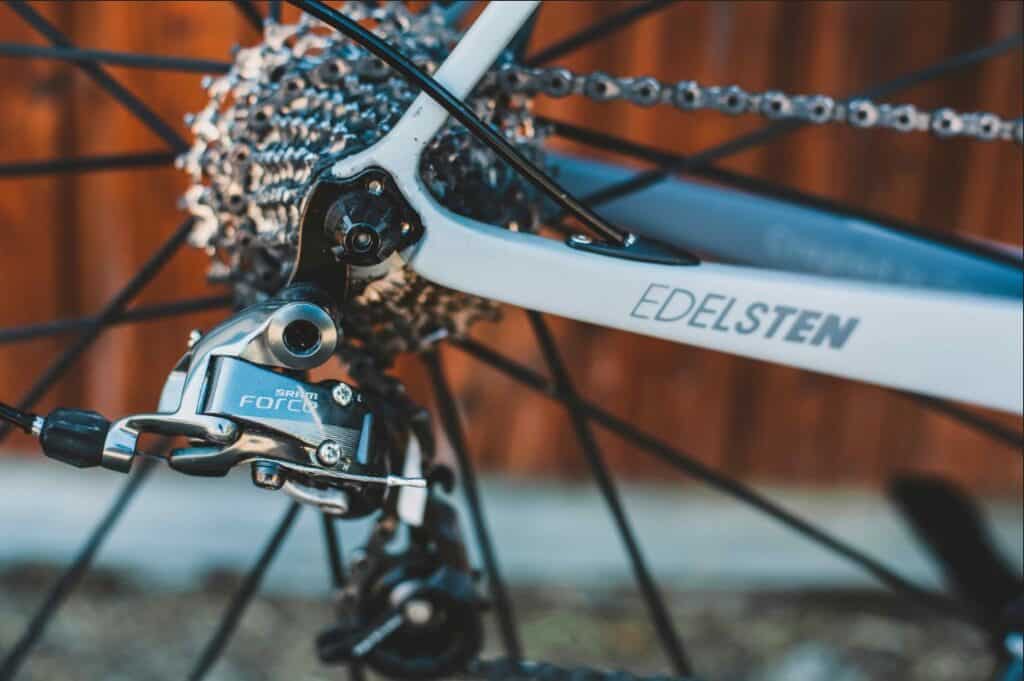 A combination of speed and control is a perfect pair!
Groupset includes shifters, brakes, drivetrain, and chainring. It's up to you how much you want to spend on the groupset.
But consider which kind of road you ride & how much speed you need? Easy shifting is crucial for racing, where a good stoppage is vital for an urban track ride.
A high-performance groupset can give you a smooth ride and great control! And at this price point, you can get premium-level groupsets.
For example, SAVADECK phantom 2.0 has Shimano Ultegra 8000 groupset. This group set comes with a carbon chainring and cassette.
This 22-speed groupset is ultra-light and gives you smooth gear shifting. With a double pivot braking system, it goes with any entry-level or amateur bike.
A little heavier but cheaper, Shimano 105 offers the same level of performance. Shimano Sora and Shimano Tiagra are perfect for an entry-level bike where Shimano Claris provide a fair service according to its price.
Other brands of groupsets are also available alongside Shimano, like SRAM or Campagnolo. But Shimano is the leader of the groupset market.
Brakes & Tires
Safety first!
You may look for good speed and smooth shifting on a road bike! But good stopping power is also necessary.
You will find wider tires on today's cheap road bikes. It gives both on-road and off-road versatility. Wider (28mm or more) tires are quite common in road bikes nowadays.
If you want to ride on gravel or dirt road, wider tires are suitable for you. It ensures a good grip on the road and offers a safe ride.
The thinner tire can be useful for real racing and sprint. If you are an on-road rider and mad for speed, a 25mm tire can make you feel good.
Disc brake or rim brake?
You can find both on our list!
Rim brakes are easy-maintainable, whereas disc brakes are powerful stoppers.
At 1000$, you can choose any of them. If you want excellent stoppage power, disc brakes are perfect.
Moreover, it works well in any condition like rain or dirt. But it needs regular maintenance that is a bit costly.
Yet, when you are spending 1000$, it won't be an issue for you. I recommend disc brakes for the commuter, endurance, bike-packing, adventure, gravel, or offroad road bike.
You may think rim brakes are not that safe. But trust me, at this price point, you will get excellent quality rim brakes that work well.
For example, Liv Avil 1 has Tektro rim brakes. The users of Liv Avil 1 say that it bites like a crab on the wheel's rim.
There is another issue in choosing the brakes. Many national federations are not allowing disc brake-equipped bikes in road races.
If you are planning to take part in road races, think over your decision of buying a disc brake-equipped bike
Comfortable Position
After spending lots of money, if you get the bike uncomfortable, how will you feel?
Not well, of course!
So, before buying a bike, make sure if it is comfortable or not?
Firstly you have to ensure fit.
If you want to go for a long-distance ride, comfort is a must. Take Tommaso Imola, for example. It has a frame that ensures a comfortable upright position.
Besides, there are other considerations for a comfortable ride like handlebar, saddle, and paddles.
For example, a longer handlebar can help you to take turns easily and gives greater control than a short handlebar.
Conclusion
A thousand dollars are not a low budget if you can utilize it properly. You can get a comfortable endurance bike, commuter, fitness bike, gravel bike, and even an entry-level race machine with that much money.
I hope this post will help you to find the best option on road bikes under 1000$. Also, it can help you to choose the correct type of road bike for you.
So? What to do now? Go, get a road bike and enjoy! Keep your eye on us every Saturday at 7 PM.