In order to get the most out of a mountain bike, it's important to find a bike that fits your body structure correctly. But this can be difficult, as the frame sizes of most bikes are designed for the average height humans. As a result, most tall riders end up with a bike that might be too short.
So, how do you know what size mountain bike will be best for men as tall as you? I will help you determine the correct size mountain bike for your body type. And I also have bike recommendations for tall men like you who are around 6'5.
So check out the list of 5 Best Mountain Bikes for 6'5 Man.
My Picks: 5 best mountain bikes for 6'5 man
Highlights:
Hand-built aluminum 6061 T6 frame
Shimano 3×8 speed drivetrain
Mechanical disc brake & single suspension
Diamondback is a reliable brand for manufacturing the top quality bikes at affordable prices. If you want to ride hardtails, the Overdrive 29er is an excellent bike to start with. It features a 22" frame and larger wheels of 29", so it will suit taller riders. Moreover, larger wheels help you to ride with pace. What else would you want from a hardtail bike?
Overdrive offers WTB tires that are a bit plain for hardcore uphill rides. But, on country cross or gravel roads, WTB performs the best. If I talk about the mechanical disc brake, Tektro serves as I expected. If you ask me about gear shifting, you can rely on Shimano. However, the built quality of this bike is quite impressive. With high-quality aluminum alloy, you can surely expect the frame to last longs.
Anyways, the pedals, grips, and saddle seem to be of low quality. This disappointed me a little bit. But they are easy to replace. So, it's okay what Diamondback serves overall at this price.
What I like: 
Overall built quality
Mechanical disc brake
Performance and control
What I don't like:
The saddle is not that comfortable
Pedals and grips are cheaply made
Highlights:
Aluminum alloy frame from Schwinn
Shimano 3×8 speed drivetrain
Dual suspension & mechanical disc brake
Another famous bike brand Schwinn introduced the Traxion mountain bike. If you are looking for a proper downhill MTB, this one is for you. Though it features a shorter frame, there is an adjustable saddle and a pair of wheels with 29" diameter. Which helps it to fit a tall guy. Moreover, the wheels spin faster because of their larger periphery. This makes it an all-terrain mountain bike. You may think that's all. But it's just the beginning.
This bike offers wide knobby tires, which provide superb control on any terrain. Riding downhill gets even easier with the mechanical disc brakes. With a 24 speed Shimano drivetrain, you can ride uphill without any worries. Moreover, gears shift smoothly with Shimano shifters. Now it makes sense why people are calling it an all-rounder.
Anyways, I tried hard to find out its cons, but I failed. People are claiming it's too light to last for long. I can't agree with them. Then, they say this bike doesn't have a water bottle mount. It can make sense but is not a solid point to complain about.
What I like:
The design is eye-catchy
Wide knobby tires provide great control
Excellent stoppage with mechanical disc brakes
Full suspension offers all-over comfort
What I don't like:
Shorter frame
No water bottle mount
Highlights:
Durable steel frame
21-speed drivetrain
Front Suspension
Now, it's time to talk about something worth buying. You may don't like cheap MTBs. But, for some reason, the Huffy Hardtail Mountain bike wins the hearts of the beginner. And why not?  It offers some exciting features at a low price. That's impressive.
Let's start with the frame. It is made of steel that is heavy yet robust and durable. Moreover, Huffybikes offer a limited lifetime offer. How cool is that?  
Riding the bike is a joy. The saddle is comfortable, handle and seat post are adjustable. This give you enough options to adjust to your comfort. However, shiting gets easier with Shimano components. In addition, control gets even better with wider knobby tires. However, the rim brake is what I disliked most about this bike. But it's okay for a $300 range bike.
Anyways, the Huffy Hardtail Mountain bike is suitable for casual off-road rides. Light downhill riding is possible with it, but I won't recommend it much.
What I like:
Robust and durable frame
Smooth-shifting
Comfortable saddle
What I don't like: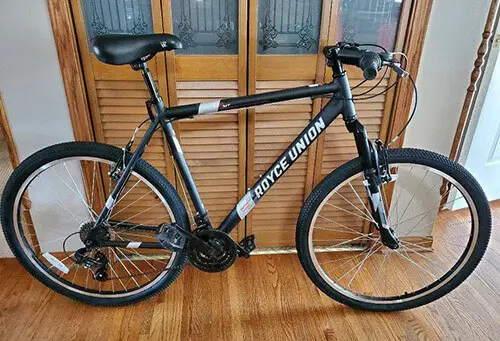 Highlights:
Lightweight aluminum frame
21-speed full Shimano drivetrain
Front Suspension
What makes the best entry-level MTB? Lightweight frame? Shimano components? Comfortable position?
Royce Union RMT comes with everything one can expect. Rim brakes are something that you may dislike on MTB. But, it serves what it is made for. Yes, Royce Union RMT is a recreational MTB with some surprising features.
Let's start with the frame. Its classic look and premium built quality is really impressive. It's made of lightweight aluminum, which significantly improves the quality of the ride. Along with full Shimano components and wide tires, the bike provides great control on and off the road.
However, this bike comes with a long 22" frame which easily fits a 6'5 man. Additionally; it features a 27.5" wheels, which rolls the bike super fast.
Anyways, rim brakes seem outdated on a mountain bike. If Royce Union featured a disc brake, it could be the best entry-level MTB. Still, it's comfortable to sit on the bike and control it. So, you can ride on-road or off-road without worry. 
What I like:
Premium built quality
Adjustable seat post and handlebar
Comfortable saddle
What I don't like:
Highlights:
Durable aluminum frame
24 speed Shimano drivetrain
Full suspension
Finally, I am bringing something that is best on every side. Gravity FSX 1.0 is best on performance, built quality, and, most importantly, best for money.
It's rare to get a mountain bike with full suspension and Shimano components at such a low price. But Gravity FSX makes it happen. This bike comes with easy-adjustable dual suspensions, which absorb all the shock while riding. Thus, you can keep your body from jerking and ride with comfort. Moreover, it features a 24-speed Shimano drivetrain which ensures smooth shifting and great control.
However, the tires are a little thinner for riding downhill. But it provides great speed on the track. Still, this bike has disc brakes. So, you don't need to worry about the stoppage power.
Lastly, Gravity FSX is lightweight and has excellent built quality. Besides, it features a 21" frame, which is best for a 6'5 man. So, overall it's a perfect mountain bike for a tall guy. You can ride cross-country, hard trail, or gravel without any tension.
What I like
Low price & value for money
Excellent built quality
Suspensions are easy to adjust
What I don't like
Tires are too thin for off-road rides
Cheaply made grips and pedal
What to consider before buying a mountain bike for 6'5 man
Before buying a mountain bike for a 6'5 man, you must consider some parameters. This will help you to get the most suitable MTB that can fulfill your need. Let me explain these parameters.
Size & Fitting
Frame size is what the tall riders struggle with. They don't know which size will best fit them. Well, it's sounds difficult, but easy to determine the size. Either you can check the manufacturer's guideline or follow the standard size chart. Here is the standard size chart of mountain bikes for men.
| | |
| --- | --- |
| Rider Height | Frame Size |
| 4'10-5'1" | X-Small (15') |
| 5'2"-5'6" | Small (16') |
| 5'6"-5'8" | Medium (17') |
| 5'8"-5'9" | Medium (18') |
| 5'9"-6'1" | Large (19') |
| 6'2"-6'4" | Large (20') |
| 6'4"+ | X-Large (21') |
Here, you can see an XL or 21' sized frame is suitable for a 6'5 man. So, you should consider a bigger frame like XL or something around it.
Note: If you don't know what frame size is, a bike frame size refers to the distance between the top of the seat tube and the center of the bottom bracket.
Wheel Size
After choosing the frame size, consider the wheel size. The wheel size refers to the diameter of the wheel. It has a significant influence on the bike's performance. For example, a bigger wheel offers better speed. Where a smaller wheel ensures excellent control on the track. However, if you are riding hardtails or crossroads, bigger wheels are more suitable. For downhill, smaller wheels with a bigger frame are the best.
Groupset
Shimano or SRAM? This debate has gone on for decades.
Well, both are well-reputed and reliable brands. I prefer Shimano for road bikes. But both play well for MTBs. So, let's end this topic here. We should talk about the drivetrain. As you get a trail bike, you should consider bikes with higher gear options. For example, a 24-speed would offer 24 different gear combinations. However, all combinations won't be useful in reality. But you will get at least 20 useful combinations.
Whatever the groupset's brand is, make sure the derailleur offers a fast and smooth shifting of gears. There is no other alternative to have a test ride to check it.
Suspensions
Suspensions are the parts that make MTBs distinct from other types of bikes. They are integrated into the front fork or installed on the seat tube. Their job is to absorb the shock while riding on the track. However, bikes are classified into 2 types regarding suspensions. One is single suspension, and another is dual suspension. But what do they mean, and which one is for you?
Well, a single-suspension bike means there is only one suspension in the fork. It is suitable for uneven roads like gravel or cross-country. A dual suspension bike means there are suspensions on both fork and seat tube. If you are riding uphill or performing on extreme sports dual suspension bike is best for you.
What makes the good mountain bike for 6'5 man
While getting a mountain bike, everyone has different needs and budget. But I have some specific considerations that won't vary much. In my opinion, the below features make the best mountain bike for a tall men.
Bigger Frame
As you are 6'5 tall, your legs must be pretty long. So you should get a bike with a bigger frame. If the frame is longer, you will get enough space to flex your legs. Moreover, riding will be efficient with a longer frame. Other hands, a shorter frame will cause inefficient paddling. Besides, space gets limited with a shorter frame. Thus, the legs get stuck on the handlebar. Leg or thigh injuries come next. So, a bigger frame will be best for a 6'5 tall guy.
Robust Body
It's easy to assume a 6'5 tall guy is heavier than an average 5'8 man. So, the mountain bike must have a durable frame and excellent built quality. A carbon frame is the best choice, whereas aluminum is a decent alternative. Steel is also robust, but it's too heavy. However, you may find steel forks and seat posts on some low-end bikes. But it won't be the best choice for mountain bikes.
Adjustability
Even if you get a mountain bike with a larger frame, you will need extra space for enhanced comfort. So, the bike should have an adjustable handlebar and saddle. Also, an easy-removable stem is good to have. Let me explain. Assume your legs are still hitting the handlebar. Get a longer stem, and raise the handlebar, and saddle. Adjustable saddle and handle heights should be the top things you should look for in a mountain bike.
Excellent Control
Most of the time, it's neglected. But control is crucial for riding a bike, especially for MTB. And which part(s) control the bike? Yes, the brakes and the tires. They play a vital role in controlling the mountain bike.
A disc brake is most efficient for a mountain bike. It offers excellent stoppage power and great control on the trail. Nowadays, most MTBs feature disc brakes. So, you don't need to worry about it. But make sure it's from a renowned brand. Thus, you can ensure good quality.
If I talk about tires, they should have excellent grip. However, wider tires provide better grip, where thinner tires offer higher speed. So, get a tire with optimal width.
Comfort
Last but not least, comfort! The mountain bike should be comfortable to ride.
Make sure the saddle has enough padding. You don't want to go with over padded saddle as if might be too uncomfortable to sit on. Try a few and get the one you are most comfortable with.
Secondly, the suspensions. The suspension absorbs the shocks while riding on uneven terrain. Thus, it prevents the jerk from your body.
Frequently Asked Questions
How do you tell if a mountain bike is the right size?
A standard bike size chart is a thing to crosscheck if your bike size is right or wrong. But different people have different physiques. That's why a standard chart does not apply to everyone. So, the best way to match the size is to sit on the bike. If you feel comfortable with it, then it's the right size. Besides, your leg should not stretch or rub with the handlebar if the size is right.
How do I know if my mountain bike is too big or too small?
You can clearly learn it after a ride. If the mountain bike is too big, stretches appear on the legs, arms, and shoulder. Thus, you get back pain after a ride. Again, in case of too small frames, legs get stuck or rub with the handlebar. Besides, wrist or knees get abnormal soreness after a ride if the frame is too small.
How do you fit a mountain bike?
If the mountain bike is too small or too big for you, it needs to be fitted. Well, you can't cut the frame off or add a tube to it. What you have to do is to adjust the height of the handlebar and seat post. Firstly you have to loosen them. Then raise or depress them until you acquire a comfortable sitting position. Besides, you can swap the handlebar stem to get the perfect angle of the shoulder while riding. However, you can do it yourself at home. Otherwise, take help from a professional if things seem too complicated.
Conclusion
I have tried and recommended 5 different types of mountain bikes for tall man. All have different features and specs. Hopefully each of these fulfil all the differents needs. For example, Traxion from Schwinn meets the demand of a hardcore rider. Where Royce Union RMT is enough for a casual biker.
As always, best of luck with your bike search and hope you enjoy the open road.
Cheers!