If you're someone who loves bikes and riding them, then you also definitely care about their safety. Because thieves are everywhere, no matter where you reside, even in the safest place, you'll find someone who's eyeing your prize's possession.
That's why even after locking your bike on your rack, you have to take some precautionary steps so that there's no way a thief could even think about stealing your bike.
Just locking your bike isn't enough, regardless of how sophisticated your rack might be. Well, since this issue is actually quiet and I want you to be vigilant thus, I am definitely giving you my insights. 
Importance of locking your bike: Lock your bike first
As I have said above, you could be at the most polite, most welcoming, and humble place on earth, and yet you could have your bike stolen. I have had a colleague who lost his bikes along with some of the parts of his hitch rack after staying a night in a motel which is known for its safety.
Thieves are very opportunistic in general, and they only require a few moments just to get an opening for theft. It is your job to make their task complicated because you always need to know that they are around.
So, perfectly lock your bike first on your rack, then add the cautionary locks to make their life difficult.
Locks that are from the brand and have options to attach
So, after locking your lock correctly, you will see that there are some extra hitches and locks where you can attach some additional locks for extra security, and that is your cue. I can specify your brand to brand because there are loads of well-renowned brands, but I can enlighten you on some of them. 
Like, on the Thule hitch racks that are platform-style based, you will see the lever where you get to lock your wheels. On that lever, you see that there's a place to attach a lock on the cycle. So, you can get the Thule Cylinder Lock for that.
You can get the Thule Snug Tite Lock to lock the hitch attached to your car even. A lot of times, it gets stolen, so adding a lock becomes necessary. 
You may get the straps for additional attachments. Suppose you use a Yakima bike rack, then it is better if you get the Yakima straps. In fact, buying products that are related to your bike is always a plus because you will know the mechanism quickly. 
I would like to clear it out that your rack may have other options to add external locks, and it may differ from the few I have mentioned. Do take a few mins and inspect your bike rack thoroughly. 
If you are curious about how to lock the bike with hitch rack
Best Bike Locks for Hitch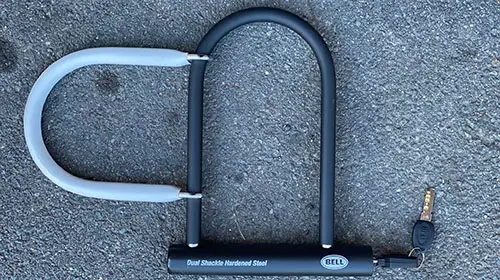 Now, let us go through some of the components that will let you perfectly secure your bike even after you've left it for days. You'll lock it with so many tools and tricks that the thief won't even consider making an attempt. 
Hitch Tightener
Now, you might get it confused with a hitch tite lock, but there are differences to it because a tight hitch lock will not only secure your hitch from getting stolen, but it will also protect your rack from wobbling. 
The product: 
The MaxxHaul 50023 Hitch Tightener may be just the right product for you because it will keep your rack from rattling and keep it secure. It is made with heavy-duty with proper coating along with the nuts that are galvanized so that it doesn't start to corrode. It secures not only the rack from wobbling but also things like cargo caries and various hitch mounting things. It can be used on Sedans, SUVs, Trucks, Minivans, and so many more vehicles, giving it a universal fit. It also has an easy installation technique in case you're not very comfortable with tools.
Pad Lock
I recommend you to get a padlock for a particular reason you need to attach one in that exact area. And, I am suggesting to you the one I personally use. You will use the padlock on the arm from where the hitch ends. You will find a place to attach the lock. 
The product:
I have been using the Master Lock 1523D for quite some time now. Its sturdiness is just as new. One of the reasons for this suggestion is because of the keys. Having a set of keys can be a bother because you need to carry them around, and obviously, they could be lost. For that reason, I have been using Master Lock 1523D because it opened with a digit combination. It is built with a hardened steel shackle. You may get confused that it's a lock for lockers, but I have known people who have been using it for various purposes. 
D-Lock
A D-Lock or a U-Lock based on where you reside is actually a no-brainer when it comes to securing your bikes at all costs. An excellent strong D-lock will secure your bike from burglary and keep your bike firmly placed. You could use it to keep your tires from moving. The D-lock can be used to attach the frame of your bike to the arm, or if you have multiple D-locks, then you can 
The Product: 
If you're someone who has used u-locks before then, you are obviously aware of the brand Kryptonite. This brand has been my go-to brand ever since I have known about locks. Their features and service come packed for a product that can add a lot of significance to people who never thought they would. The Kryptonite Evolution, the 3mm hardened steel, is resistant to bolt cutters, knives, and many hand tools. It also provides an extra cable to make knots. It will come in handy in case you don't have cable locks. 
In terms of service, they provide a key safe program; signing up for that program will let Kryptonite send you two free locks. And, for warranty, it provides a lifetime warranty. 
Cable Lock 
The cable lock is a must to make the thief's life absolutely miserable when they are trying to steal your bike. Your job is to get a long and robust cable lock that can be intertwined and knotted in so many ways that it will even be bothersome to look at, let alone try. 
The Product: 
Owning a cable lock is actually quite normal for anyone because if you own a bike, then it is likely that you will keep a cable lock to yourself. A cable lock is convenient because it is cheap and flexible to carry. So, I recommend you the Master Lock 8114D. It is 1.8 meters long and 8 millimeters wide in diameter. It is compacted with braided and has a vinyl coating that prevents it from various tears. The 8114D also has a digit combination lock, just like the 1523D, for your convenience. 
Bear in mind the products that I've suggested can replacement with other equivalently good products. My colleagues and I apparently have decent experiences, and based on our research, we have recommended you these products.
Optional Locks 
I have to mention that these are optional locks and skipped if you desire, but adding them can definitely be a bonus. 
Folding Locks
Folding Locks are generally for bike stands they can be used on the racks if the car is not in motion. Because while in motion, if you attach folding lacks, then you may tear the paint job or the frame of the bike. The Kryptonite Keeper might be just the right thing for you.
Adding rubber straps can never go wrong because the majority of locking your bike to the rack is attaching the straps. So, you could rubber straps and add them to places where your bike is vulnerable to theft. I suggest you get the straps or the ones with buckles that are the same as your bike rack brand. 
| | | | | |
| --- | --- | --- | --- | --- |
| Product Type | Product | Key Feature | Warranty  | Utility  |
| Hitch Tightener | The MaxxHaul 50023 Hitch Tightener | Universal Attachment on various types of vehicles.  | No Warranty | It is placed on the hitch of the vehicle. |
| Pad Lock | Master Lock 1523D | You don't require keys; just remember the 4-digit combination. | Limited Lifetime Warranty | Placed on the bottom part of the rack's arm attached to the hitch. |
| D-Lock | The Kryptonite Evolution | The key safe program lets you get two free keys even after you lose them. | Limited Lifetime Warranty | Can be attached to many areas of the rack and bike. But, it can be attached to the rack's arm and the bike's frame. |
| Cable Lock | Master Lock 8114D | Has a four-digit combination and is more substantial than average cable locks.  | Limited Lifetime Warranty | It is supposed to be wrapped around the bikes and the rack with multiple twists covering the frame and the tires.  |
FAQs (Frequently Asked Questions)
Do bike thieves know how to do lock picking?
Apart from exceptional cases, the majority of them don't know how to lock pick. Because if they learned to lockpick, then they clearly wouldn't steal minute things like Bikes.
Most bike locks can be cut through extreme brute forces and with powerful bolt cutters and saws. So, the majority of them use essential tools other than knowing the craft of lock picking. 
Wrap Up! 
I hope you have now enough insight into this simple process. I've attempted to make sense and relate things so that not only an experienced cyclist but also a complete novice may appreciate it. Being aware of security is being an intelligent person.
You are clearly accountable for your own things at the end of the day, regardless if you stay in a neighborhood filled with a crime or not. Because of that, you must act to it in safekeeping your bike with all the tools necessary.
Thus, I hope you see someone who has an expensive rack and a bike and is being rather careless about his things. Then, I believe you should give that person the valuable insights you learned from here.