An urban biker would love to have a bike that offers both track and street riding experiences.
Whether you are riding to perform your daily exercise or just to explore roads, this 6KU Urban Track Bike is a must-have for you.
This bike is your ideal one irrespective of your gender- as both men and women can ride over it.
Being lightweight and durable, it has the features of both single-speed and flip-flop hubs! Plus point is it wouldn't cost you much at all!
Without wasting any moment let's break down the bike. Enjoy our 6KU urban track bike review.
6KU is the manufacturer of this bike, which promises to offer affordable and accessible fixies.
And yes, this is the bike that has got the most user reviews on Amazon!
So, go through our review on the 6KU Urban Track bike before you plan to purchase it, as we are going to give you an in-depth review of this bike!
How we reviewed:
Expert's opinion has been acknowledged regarding this field.
We found out the pros and cons specifically for this bike.
We analyzed the experiences of real riders across social media groups and forums.
Key Features/Specification:
Type: Track Bike
Frame: Aluminium 6061 structured frame
Fork: Aluminium
Sizes: 47-61 cm
Gear ratio: 48t/16t, single-speed gear
Tires: 700x35c
Brakes: Dual Caliper
Hubs: Flip-Flop
Pedals: BMX
Saddle: Synthetic Leather
Weight: 29.0lbs
Colors: Black and yellow, black, navy blue-black, white-black, and burgundy-black
Release Year: 2019
Overview of 6KU Urban Track bike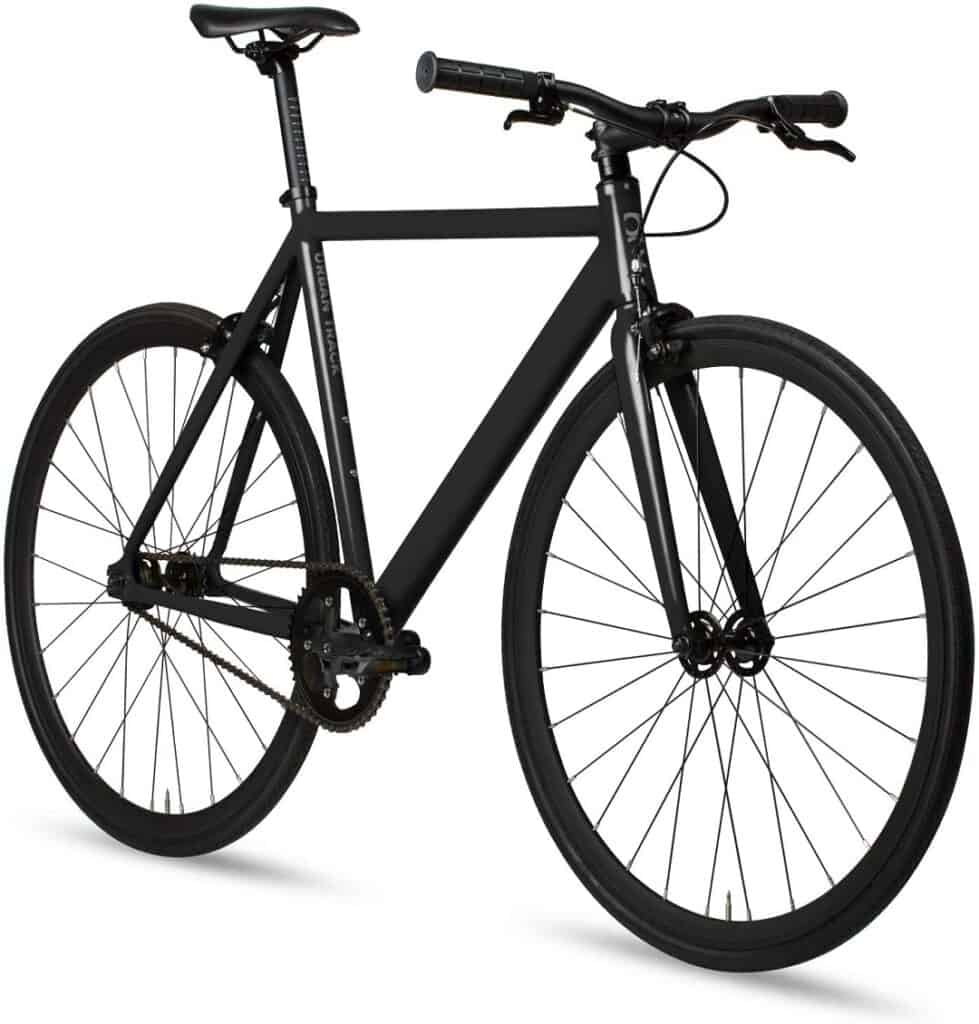 Frame:
A biker's key to speed and comfort is his/her bike's frame. Keeping this in mind, 6KU constructed a durable aluminum frame that can hold up your weight in almost any condition.
This highly capable frame is quite strong and rigid compared to its price. Hence you will not have to face the fear of falling apart while riding.
Besides, this bike is designed with a smooth and matte finish, resulting in a stylish and elegant look.
Brakes:
This bike provides you with rear and front dual caliper brakes to ensure your maximum safety while cycling.
As a result, you will acquire complete control over your bike and improve your riding skills quickly. You can stop anywhere anytime, no matter how much your pedaling speed remains.
These caliper brakes are super durable. You can easily adjust and clean these brakes. Removing or replacing them can also be done.
Wheel and Tires: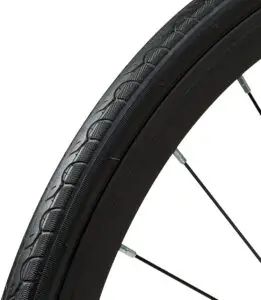 This single-speed track bike is incredible as it offers strong wheels and tires. Hence, 6KU ensures extreme stability for its riders.
The wheels are wide enough and double-walled.  These deep V cushioned wheels are unbelievably strong and durable. They are well cushioned for your additional comfort.
Additionally, they are paired with 35c wheels to deliver extra balance and stability. Indeed, your perfect companion for group rides!
Saddle and Handlebar:
Trust me; nothing feels better than a bike with a comfortable saddle! And keeping this in mind,
6KU is equipped with an adjustable saddle where you can manage the position of your seat according to your height and other factors as well.
It is also well-padded to ensure maximum comfort so that you can enjoy a long ride without getting your buttock hurt.
The handlebar is wide and low, 31.8 mm oversize, which is the perfect handlebar that you would expect from any race bike.
6KU has riser handlebars, which help in quick and easy navigation. And, with it, you can ride through concrete and even in jungles.
Is 6KU Urban Track Bike for you?
Well, I have noted all the necessary details that you must keep in mind before purchasing this 6KU urban bike.
After going through all these details, do you think that this bike meets all your expectations? Is it worth buying? Is it the bike that you had been searching for all the time?
Ask yourself these questions, and I am sure you will get the answer.
If you find that this bike has got all the features that you are looking for, then you must give it a shot! It's totally up to you to decide.
This bike is for urban riders – you can even explore riding on this bike! If you want to ride through hard and concrete materials, then this bike would be the right choice for you!
In case if you missed our more individual bike reviews, feel free to look at them:
Pros:
A lightweight frame that boosts up your biking speed.
A rigid and robust dual caliper handlebars
Front and rear brakes can be easily adjustable.
You get an option to buy in various colors.
Elegant and stylish design to give your bike an attractive look
Fixed gear options.
Durable brakes
Affordable price range
Comfortable seat
Cons:
No kickstand
Pedals are made of plastic-like components.
It doesn't include mount points for the bottle cage.
Narrow handlebar
Certain issues with the crank system
Conclusion:
On the whole, 6KU Urban Track Bike has got nothing much to complain about! For being lightweight, robust, and durable, this bike can face almost any challenge in an urban environment.
Although the pedals are poor in quality, the overall performance is entirely satisfactory.
The 6KU Urban Track Bike has been a source of comfort and satisfaction for many urban riders who are interested in upgrading their bikes.
Another amazing thing is that you can apply your superlative control over the bike while riding.
Overall, this bike is effective for you both as a beginner and a rough-riding biker as well! Undoubtedly one of the best bikes in the market right now!